Posted 28 November 2011
UCD-Teagasc partnership to enhance agricultural research, education and innovation
University College Dublin and Teagasc (the agriculture and food development authority in Ireland) have signed a new agreement to further enhance their collaborate activities in research and training.
For the past six months, Michael Berkery, former Chief Executive Officer of the IFA has chaired a joint UCD/Teagasc Working Party to identify ways to formalise and strengthen the long-standing collaboration between the two organisations.
The result is the 'The National Agricultural Research, Education and Innovation Partnership' which was formally signed by the President of UCD, Dr Hugh Brady and the Director of Teagasc, Professor Gerry Boyle on 21 November 2011.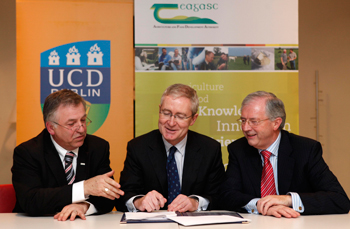 Pictured at the signing is Director of Teagasc, Professor Gerry Boyle, President of UCD, Dr Hugh Brady and Mr Michael Berkery, Chairman of the UCD Teagasc Joint Working Group
At the core of the partnership is a programme of agricultural research where Teagasc and UCD will now operate a shared strategy for post-graduate training, including a provision for greater involvement by Teagasc personnel in undergraduate and post-graduate teaching, while also enabling more substantial engagement by UCD personnel in Teagasc research programmes and technology transfer activities.
The Partnership will enhance the scientific and technical leadership of University College Dublin and Teagasc to support the international competitiveness, growth and sustainable development of the agricultural sector.
It will also ensure world-class education for agricultural students and deliver excellent basic and applied research programmes in key areas of relevance to the development of Irish agriculture.
"This partnership will enable both organisations to accomplish goals together that they could not achieve separately," said Dr Hugh Brady, President of UCD.
"It is anticipated that this Partnership will bring new and additional resources to both organisations that will enhance the flow of new information and technologies to the Irish agriculture and food sector."
"Increasing the co-operative and collaborative links between UCD and Teagasc will enhance the scientific and technical competence and breadth of the two institutions, while making better use of respective facilities and enabling faculty and staff to work together to develop stronger programmes of mutual interest and benefit," said Professor Gerry Boyle, Director of Teagasc.
Michael Berkery, who has been appointed as Chairman of the Board of Management of the Partnership, welcomed the commitment of researchers and academics in UCD and Teagasc to "engage directly with farming and the food industry in developing joint programmes and to prioritising the development and transfer of new technologies and knowledge that will enable the sector deliver on ambitious growth targets. The state will also benefit from greater integration, efficiency, cost effectiveness and commercial benefits for public funds invested in agricultural research and education."
(Produced by UCD University Relations)