Posted 16 December 2011
RIA Gold Medal for UCD engineer
UCD Emeritus Professor of Engineering, John O. Scanlan has been awarded a RIA (Royal Irish Academy) Gold Medal in recognition his outstanding contribution to Engineering Sciences.
Widely recognised as one of the leading international living circuit theorists, Professor O. Scanlan has made a fundamental contribution to the field of electronic engineering, including electronic circuit and system design, digital circuits and computing, communications and signal processing.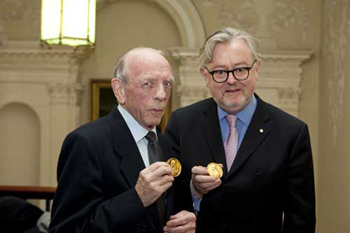 2011 Academy Gold Medals in the Engineering Sciences and Social Sciences presented to Professor John O. Scanlan (UCD) and Professor William Schabas (NUIG)
Each year, the RIA Gold Medals are awarded to two outstanding academics. They are regarded as a truly national expression of celebration for scholarly achievement.
This year's RIA Gold Medals were presented by the Minister for Education and Skills, Ruairi Quinn TD to engineer, Professor John O. Scalan (University College Dublin), and international human rights scholar, Professor William Schabas (NUI Galway).
"The Academy Gold Medals acclaim Ireland's foremost contributors to the world of learning and science," said Minister Quinn. "The work of today's recipients illustrates Ireland's high standing in the world of learning."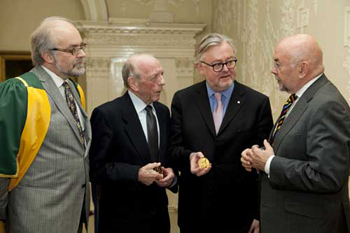 Pictured at the ceremony (l-r): Professor Luke Drury, President, Royal Irish Academy, Professor Sean O. Scanlan, Engineering Sciences Gold Medallist, Professor William Schabas, Social Sciences Gold Medalist, and Ruairi Quinn TD, Minister for Education and Skills
UCD Emeritus Professor John O. Scanlan, UCD School of Electrical, Electronic & Communications Engineering, University College Dublin, has many awards and distinctions.
He is a former President of the Royal Irish Academy (1993-1996), a life fellow of the Institute of Electrical and Electronics Engineers (IEEE), and is a recipient of the Golden Jubilee Medal of the IEEE Circuits and Systems Society.
The RIA Gold Medals are sponsored by The Higher Education Authority and The Irish Independent.
The
Royal Irish Academy
(RIA) is Ireland's premier learned body and vigorously promotes excellence in scholarship, recognises achievements in learning, direct research programmes and undertakes its own research projects, particularly in areas relating to Ireland and its heritage.
(Produced by UCD University Relations)