Posted 22 March 2012
'Celtic alliance' to target advances in healthcare
The European Regional Development Fund under the Ireland Wales Cross Border programme has announced funding for a new 'Celtic alliance' to lead the way in developing advances in healthcare.
The €1 million Celtic Alliance for NanoHealth (CAN) will help companies on either side of the Irish Sea stay at the forefront of innovation and growth in what is a fast developing and hugely influential healthcare sector.
Under the alliance, Swansea University's Centre for NanoHealth, the lead partner, will pool resources and expertise with three Dublin-based institutions – University College Dublin's Centre for BioNano Interactions, Trinity College Dublin's Institute of Molecular Medicines and Centre for Adaptive Nanostructures and Nanodevices (CRANN), and Dublin City University's Biomedical Diagnostics Institute and Nanobiophotonics and Imaging Centre.
"Nanohealth has the potential to deliver major advances in healthcare, and in doing so drive innovation and deliver sustainable economic and social development," said Deputy Minister for European Programmes, Alun Davies.
"I welcome this EU-funded initiative which will help forge a strong alliance between academia, healthcare providers and business to deliver healthcare solutions."
Through CAN it is expected that new and faster ways of screening for diseases using nanotechnologies will be developed. These will provide advances in patient care and safety and enhance the speed at which novel developments can be translated for patient benefit. For example, Nano-devices and Nano-biosensors allow the detection and measurement of biomarkers in fluid or tissue samples at a level of sensitivity far beyond current methods, aiding the early detection and treatment of a wide range of diseases including cancer and heart disease.
"UCD already leads the European Infrastructure for Nanosafety and Bionanoscience (composed of the key Centres from all over Europe), and therefore has considerable understanding of how new nanomedicines and nanodiagnostics can be shepherded through the regulatory system," said Professor Kenneth Dawson, University College Dublin.
"Now, with the link to CAN we have the capacity to develop diagnostic devices that can pick up early signals of disease and support their commercialisation. This project is part of an overall strategy in UCD's new Nanomedicine Centre initiative to draw together all of the assets necessary to make UCD, combined with our partners in TCD and DCU, a European force in this arena."
CAN comes at an important time when regulations around nanomaterials in products are being formed, and CAN's research focus maps well to strategic research areas for Ireland as identified in Forfas' Report of the Research Prioritisation Steering Group, published on 01 March 2012, which identified Medical Devices, Diagnostics and Therapeutics as three of its fourteen priority research and investment areas.
The Forfas report identified opportunities for commercialisation in emerging growth areas such as personalised medicine/companion diagnostics, nutrition related diagnostics, veterinary diagnostics and point-of-care devices.
CAN will enable small to medium sized companies interested in developing nanohealth technology to access world leading resources and link-up with potential investors.
Industry brokerage opportunities include two showcase business events planned in September of 2012 and 2013 in Swansea and Dublin, in collaboration with the Rice Alliance for Technology and Entrepreneurship at Rice University in Houston, Texas, aimed at providing opportunities for companies to link up with investors tailored to the nanohealth sector.
"Establishing a coordinated cross-border cluster will create a world-class alliance of key opinion leaders, internationally distinguished researchers and state-of-the-art infrastructure," said Dr Steve Conlan, Director of the Centre for NanoHealth at Swansea University.
"This alliance will have the scope, capacity, and flexibility to lead nanohealth internationally from scientific, technological, and economic innovation perspectives."
"NanoHealth is an emergent business area that will undergo rapid growth to deliver future healthcare, and CAN will directly impact on economic prosperity through the transfer of innovations from the partner higher education institutions to industry, in particular SMEs."
"The alliance will realise cross-border innovation in research and development, training and commercialisation programmes through this unique partnership."
"CAN will work closely with Welsh and Irish and Welsh businesses to explore and exploit opportunities presented by the effective development and management of the nanohealth platform, and will work to disseminate these advances to the European academic and industry base."
For more information about the Celtic Alliance for NanoHealth (CAN) visit www.celticnano.eu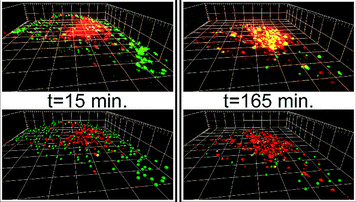 Tracking the uptake and localisation of nanoparticles in cells: 3D images of a HeLa cell immediately after (15 min) a short pulse of 50nm green-fluorescently-labelled polystyrene nanoparticles, and 165 mins later. In all images, the nanoparticles are green, the cellular lysosomes are stained in red, and nanoparticles contained inside lysosomes appear as yellow (red+green=yellow). Images from P. Sandin, a postdoctoral researcher at the Centre for BioNano Interactions. See Sandin et al., ACS Nano, 2012, 6, 1513–1521.

(Produced by UCD University Relations)