Posted: 25 July 2012
UCD's Lanigan-O'Keeffe to represent Ireland in modern pentathlon at London 2012
20-year-old, Arthur Lanigan-O'Keeffe, a UCD Ad Astra Elite Athlete studying for his BSc in Sport and Exercise Management, will represent Ireland in modern pentathlon at the London 2012 Olympics.
Arthur takes his place at London 2012 alongside Ireland's Natalya Coyle following the withdrawal of the Polish competitor Lukaz Klekot who tested positive for the banned substance Methylhexaneamine at the national championships in Poland.
"Arthur has done exceptionally well and just failed to gain his Olympic berth directly," said Lindsey Weedon, Ireland's modern pentathlon manager, speaking to RTÉ Sport.
"With the withdrawal of the Polish competitor, Arthur's Olympic dream has come true."
Arthur has successfully competed for UCD in equestrian and fencing at university championships.
Meanwhile, 22 year-old, Annalise Murphy (Radial) will also represent Ireland at the London 2012 Olympics. Currently ranked 11th in the world, Annalise is on a study break from UCD to pursue her career in sailing.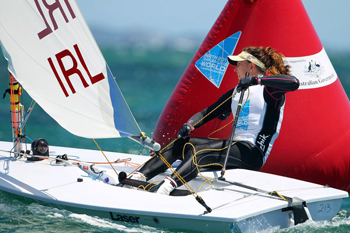 She qualified for the London 2012 Olympics after finishing sixth at the World Sailing Championships in Perth in November 2011.
Annalise is a member of the National Yacht Club in Dun Laoghaire and UCD Sailing Club. Her mother Cathy represented Ireland at the Seoul 1988 Olympics, and her father Con holds the Round Ireland speed record.
(Produced by UCD University Relations)