Posted: 15 Aug 2012
UCD Olympians welcomed home
Six UCD students and graduates, Annalise Murphy, Arthur Lanigan O'Keeffe, Ger Owens, Deirdre Ryan, Derval O'Rourke and Joanne Cuddihy, were among the Irish Olympic team welcomed back to Dublin at a civic reception today.
"We are extremely proud of our students and graduates who represented their country." Dr Hugh Brady said. "It was a fantastic Olympic Games for Ireland and we thank our team for their outstanding efforts."
Annalise Murphy, the 22 year old UCD science student and Ad Astra Elite Athlete, finished fourth overall after a fantastic start and just one or two slips that took her out off the podium.
Annalise came first in the first four races but suffered the disappointment of a fifth place in the Laser Radial Sailing medal race to finish fourth overall and therefore marginally miss out on the medal. Her three rivals China's Lijia Xu, Marit Bouwmeester (Holland) and Evi van Acker (Belgium) took the first three places.
It was a wonderfully brave effort and a brilliant Olympics for Murphy.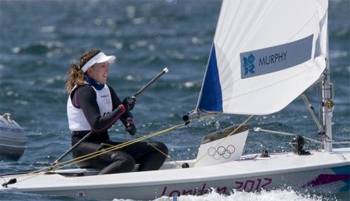 Annalise Murphy in competition
"I had a brilliant week. My first two days of this event, nobody could beat me so I don't think it gets much better than that. I'm only 22. All the girls are much older than me in the fleet. I'm going to work so hard for 2016 and hopefully I'll be able to come good then." Murphy said.
Arthur Lanigan O'Keeffe finished in 25th place in modern pentathlon. The 20-year-old UCD Sports & Exercise Management student and Ad Astra Elite Athlete was the final athlete to be added to Ireland's Olympic squad, called up to the team only two weeks before the start of the Olympics.
Lanigan O'Keeffe was lying 18th, out of 36 contenders, following the fencing, swimming and show jumping disciplines.
Some shaky shooting, however, in the final combined event moved him out of the top 20 - his targeted final position. He confirmed afterwards that he intends to compete in Rio in four years time. His best result at this Olympics was in the 200m swim, where he finished 2nd in his heat, with an overall position of 9th. He finished 18th overall in fencing, and 20th in horse-riding.
The gold medal was won by David Svoboda of the Czech Republic. Silver went to Zhongrong Cao, of China with Adam Marosi, of Hungary, taking the bronze.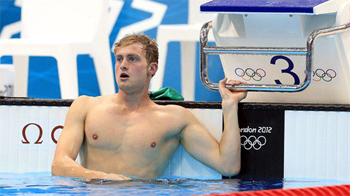 Arthur Lanigan O'Keefe
"I went into the competition with no expectations and came out with a satisfactory result," he told RTÉ. "I gained a lot of experience and I'm really happy."
Performance Director, Lindsey Weedon said Lanigan O'Keeffe performed really well in his first Olympics. "For him, and Natalya Coyle, we are really looking to Rio. To even qualify here was huge for our programme."
Ger Owens, a UCD BA geography and MSc business graduate, represented Ireland in sailing. Ger along with team mate in the mens 470 class, Scot Flanigan, finished 23rd overall with a net total of 173.
Deirdre Ryan, a former scholarship student and who attended UCD at both undergraduate and post graduate levels competed in the high jump. Deirdre successfully jumped 1.80 and 1.85, but missed at 1.90m.
Derval O'Rourke, a former sports scholar and student at both undergraduate (Arts), post graduate (Dip. in Business) and Masters levels, competed in the 100m hurdles. Derval made a fantastic start to 100m hurdles semi-final, but failed to qualify for the final after fading badly in the latter stages of the race to finish fifth behind Australia's Sally Pearson in 12.91.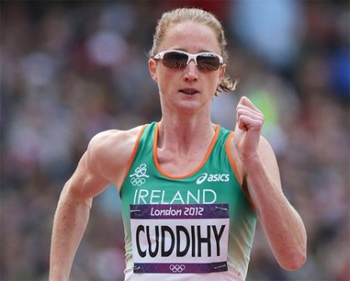 Joanne Cuddihy
Joanne Cuddihy, a graduate of medicine and former scholar throughout undergraduate studies competed in the 400m and 4x400m relay. Joanne did not advance to the final of the 400m as she finished 5th with a semi-final time of 51.88. In the 4x400m the team did not make it out of the heats but set a new season's best of 3:30:55.
(Produced by UCD University Relations)