Posted: 11 Oct 2012
UCD named Sunday Times University of the Year for 'unrivalled strength in investment in students'
The Sunday Times has named University College Dublin as the University of the Year for Ireland.
The accolade is based largely on the strength of University College Dublin's improved ability to attract high-calibre undergraduate students and the university's huge investment in student support and infrastructure.
According to the Sunday Times, University College Dublin is unrivalled in the strength of its investment in students.
Commenting on the level of increase in leaving certificate points among new entrants to UCD, Kate Butler, the co-author of the Sunday Times University Guide said: "This year, UCD saw its median points score rise 54 to 457."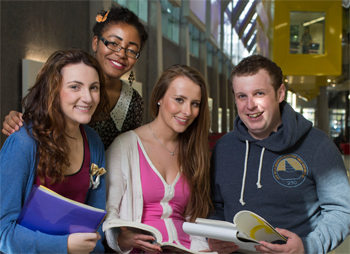 A group of UCD students pictured in the new Student Centre
"UCD also has the largest proportion of international students in the Irish third-level sector."
"When Xi Jinping, vice-president of China, visited Ireland earlier this year, one of the highlights was the signing of contracts between UCD and Beijing University of Technology to establish the first international campus in the Chinese capital," she added.
The recent opening of the new €50m UCD student centre also contributed towards the awarding of the title to UCD this year.
The new 11,000sq metre student centre includes: a 50m Olympic specification swimming pool, a tournament-grade debating chamber for the UCD Literary & Historical Society named after the late Taoiseach Dr Garret FitzGerald, a 90 seat cinema, and a 125-seat theatre for UCD's Dramsoc.
The President of UCD, Dr Hugh Brady believes the university is seeing a resurgence in popularity for three reasons: more support provided for first-year students, the massive upgrade in facilities, and the refreshed curriculum – the UCD Horizons programme.
This is the second time that the 158-year-old institution has been awarded the title in the ten year history of the Sunday Times University Guide - a comprehensive guide to higher education in Ireland and the UK.
(Produced by UCD University Relations)