Posted: 24 Oct 2012
UCD Choral Scholars feature in INTERKULTUR World Ranking of Choral Choirs
INTERKULTUR, the organisation dedicated to bringing people of all nations, cultures and ideologies together through choral music competitions, has ranked UCD Choral Scholars 35th in the world in its mixed choir ranking.
For over twenty years, INTERKULTUR competitions have been among the most innovative events in the international choral scene.
INTERKULTUR's flagship event, The World Choir Games, take place every two years in different partner cities around the world. The singers compete on behalf of their nations for gold, silver and bronze medals in more than 20 different disciplines – the ultimate goal is the coveted title of "Champions of the World Choir Games".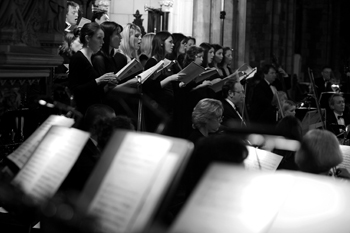 All INTERKULTUR competitions are carried out according to the MUSICA MUNDI quality seal. This makes possible an overall comparison of all choirs that have participated in INTERKULTUR competitions.
These competitions are not just for the best choirs in the world, they are open to all ensembles in the musical world.
Together, more than 6,300 choirs made up of almost a quarter of a million singers and musicians from 100 nations have taken part in more than 120 events organized by INTERKULTUR so far.
"It is always satisfying for our students to be acknowledged internationally for their work and commitment, especially for the level of preparation they undertake to compete at an international level," said Desmond Earley, Artistic Director of UCD Choral Scholars and Director (Music) of UCD Ad Astra Academy.
"This tribute belongs to our students, both past and present UCD Choral Scholars, and I would like to thank them for their constant commitment to the standard of performing-arts we espouse here at UCD."

UCD Choral Scholars 2012/13:
Rachel Dilworth (Medicine); Emma Fletcher (Medicine); Erik Goulding (Biomedical Engineering); Aoife Heeney (Medicine); Sorcha Kinder (Law); Kate Lenehan (Health & Performance Science); Niamh McCullough (Bcomm International); Niamh Murray (International French); Glenn Murphy (English & Drama); Justin Neville (Arts); Caitríona Ní Chathasaigh (Radiography); Óisín O'Callaghan (Law & Economics); Ronan Scolard (Music); Niall Stafford (MA Economics); Diarmuid Sugrue (Medicine); Sarah Thursfield (English); and Mark Waters (Ag Science).
UCD Choral Scholars is Ireland's leading collegiate choral ensemble. With a large choral repertoire ranging from the medieval to the contemporary the choir gives many major concerts throughout the academic year, both nationally and internationally.
Eighteen students are awarded a scholarship each September following a competitive selection process.
UCD Choral Scholars maintains a strong connection with its alumni who return regularly to perform at prestigious concerts, ensuring a continuity of standard, as well as the warmth of camaraderie for all involved.
(Produced by UCD University Relations)