Posted: 05 Nov 2012
UCD Crowned Student Yachting World Champions in France
Ten UCD students (Team Ireland) raced to victory by the largest margin ever recorded by an Irish team in the 32-year history of the Student Yachting World Cup.
Team Ireland dominated the regatta by consistently scoring podium places in almost all of their 13 races throughout the championship to finish on a total of 25 points. Their closest rival, Team Canada from Dalhousie University finished on 37 points.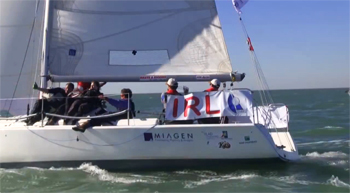 UCD students (Team Ireland) compete in Student Yachting World Cup
According to RTE Sport (Sailing), 'Team Ireland's skipper Aidan McLaverty produced some breathtaking start line manoeuvres when jostling with the other nations, trying to ensure the team started at the most favourable end of the start line on each occasion'.
14 teams competed in the event over six days in wide-ranging sailing conditions and race course formats in La Rochelle, France.
The overall winner was decided on the results of 13 races and two discards. The last two days of the regatta had to be cancelled due to winds gusting 40 knots on the race course.
(Produced by UCD University Relations)