Posted: 09 Nov 2012
National University of Ireland (NUI) Awards and Scholarships for UCD students and graduates
The Chancellor of the National University of Ireland (NUI), Dr Maurice Manning has presented Awards and Scholarships valued at over €1 million to graduates and students of the NUI. 37 of the 115 awards were presented to UCD academics, scholars and graduates.
"We regard our awards as an investment in academic excellence and we are very confident that this investment will pay handsome dividends not just for the individuals concerned. There will also we hope be lasting benefits for Ireland, for our society, our culture and our economy," said Dr Manning.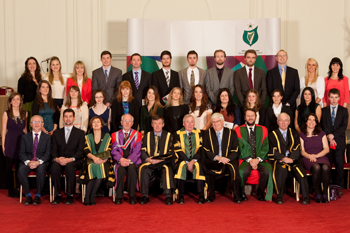 The award ceremony also marked the presentation of the inaugural NUI Dr Garret FitzGerald Post-Doctoral Fellowships.
"I am particularly pleased that for the first time we are awarding the NUI Dr Garret FitzGerald Post-Doctoral Fellowships, in honour of our late great Chancellor. As Chancellor, Garret greatly enjoyed this ceremony as an endorsement of so much that he valued: intellectual challenge and rigour, and the opportunity to meet the brightest minds of the rising generation," said Dr Manning.
List of Award Winners – University College Dublin
Dr Mark Empey - NUI Dr Garret FitzGerald Post-Doctoral Fellowship in the Humanities (graduate of UCD, he will will take up Fellowship in NUI Maynooth)


Dr John Healy – NUI Post -Doctoral Fellowship in the Sciences (a graduate of UCD, he will take up the Fellowship in NUI Maynooth)


Dr Meriel McClatchie - NUI Dr Garret FitzGerald Post-Doctoral Fellowship in the Humanities (a graduate of UCC, she will take up the Fellowship in UCD)


Dr Bettina Schaible – NUI Post – Doctoral Fellowship in the Sciences (will take up Fellowship in the Conway Institute, UCD)


Mr John Reynolds – E J Phelan Fellowship in International Law


Mr Rónán MacDubhghaill – NUI Travelling Studentship in the Humanities and Social Sciences


Mr Darren O'Byrne – NUI Travelling Studentship in the Humanities and Social Sciences


Mr Anthony Fitzpatrick – NUI Travelling Studentships in the Sciences


Mr Dylan Connor – NUI Denis Phelan Scholarship in the Humanities and Social Sciences


Mr Richard Teague – Pierce Malone Scholarship in Philosophy


Mr Rowan Lacey – French Government Medal and NUI Prize for Proficiency in French


Ms Geraldine Cawley – NUI Scholarship in Rural Development

NUI Dr H H Stewart Medical and Literary Scholarships and Prizes
The Dr H H Stewart Literary Scholarship in French
3rd prize
Hillary Hovenden
University College Dublin
The Dr H H Stewart Literary Scholarship in German
2nd prize
Robyn Browne
University College Dublin
3rd prize
Sarah McEvoy
University College Dublin
The Dr H H Stewart Literary Scholarship in Italian
Frank O'Dea
University College Dublin
The Dr H H Stewart Literary Scholarship in Latin
3rd prize
Jane McInerney
University College Dublin
The Dr H H Stewart Medical Scholarship in Anatomy
3rd prize
Rebecca Monaghan
University College Dublin
The Dr H H Stewart Medical Scholarship in Biochemistry
3rd prize
Michelle Madden
University College Dublin
The Dr H H Stewart Medical Scholarship in Clinical Radiology
3rd prize
Graham Woods
University College Dublin
The Dr H H Stewart Medical Scholarship in General Practice
3rd prize
Sinead McGlacken-Byrne
University College Dublin
Dr H H Stewart Medical Scholarship in Gynaecology and Obstetrics
3rd prize
Donogh Burns
University College Dublin

Commendation
Rebecca Marshall
University College Dublin
The Dr H H Stewart Medical Scholarship in Medicine
2nd prize
Ronan Motyer
University College Dublin
The Dr H.H. Stewart Medical Scholarship in Midwifery
Jessica Daly
University College Dublin
The Dr H H Stewart Medical Scholarship in Nursing

2nd prize
Rachael McHugh
University College Dublin
The Dr H H Stewart Medical Scholarship in Paediatrics
3rd prize
Niamh O'Brien
University College Dublin
The Dr H H Stewart Medical Scholarship in Pathology
Dearbhla Doherty
University College Dublin
The Dr H H Stewart Medical Scholarship in Pharmacology
Hilary E. Dowdall
University College Dublin
The Dr H H Stewart Medical Scholarship in Physiology
2nd prize
Julia Gleize
University College Dublin
The Dr H H Stewart Medical Scholarship in Psychiatry
2nd prize
Louise Hendrick
University College Dublin

3rd prize
Alice Brennan
University College Dublin
The Dr H H Stewart Medical Scholarship in Public Health
Rebecca Marshall
University College Dublin
The Dr H H Stewart Medical Scholarship in Surgery
Olwen Murphy
University College Dublin
The Dr H H Stewart Medical Scholarship in Diagnostic Imaging
Anne McMenamin
University College Dublin

2nd prize
Suzanne Browne
University College Dublin
The Dr H H Stewart Medical Scholarship in Physiotherapy
Rachel Neary
University College Dublin
(Produced by UCD University Relations)