Posted: 30 Nov 2012
An Taoiseach, Enda Kenny officially opens new student centre at UCD
A new student centre development which includes a 50 metre Olympic-specification swimming pool has been officially opened by An Taoiseach, Enda Kenny at University College Dublin. The 11,000 sq metre building designed by Fitzgerald Kavanagh and Partners was developed with student funds following a student referendum in 2006.
"This [development] shows a very strong sense of belonging and a sense of pride," said An Taoiseach, Enda Kenny.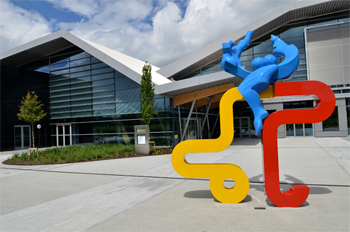 UCD Student Centre
Together the students voted for a shared vision for their university. A vision of their university, UCD, having the finest student centre and sport facilities available."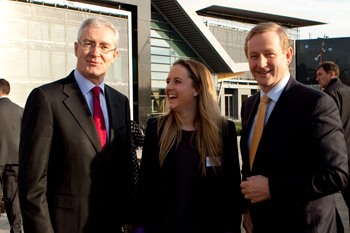 Pictured at the official opening of the UCD Student Centre (l-r): UCD President, Dr Hugh Brady; UCD Students' Union President, Rachel Breslin; An Taoiseach, Enda Kenny
On his tour of the development An Taoiseach was shown some of the key facilities within the development including: a 50 metre Olympic-specification swimming pool, a 125-seat state-of the-art performance theatre, a 90-seat multimedia 3D cinema, a dance studio with a 'floating-floor', and a purpose built debating chamber resembling a mini-parliament named in honour of the late Dr Garrett Fitzgerald.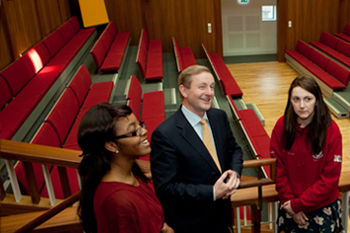 An Taoiseach, Enda Kenny pictured with Daisy Onubogu, Auditor of UCD Literary & Historical Society and Sinead Rooney, Auditor of UCD Law Society, in the new debating chamber named in honour of the late Dr Garrett Fitzerald
The new debating chamber is now home to the UCD Literary & Historical Society (founded by John Henry Newman in 1855) and the UCD Law Society (established in 1911). These two renowned student societies, synonymous with University College Dublin, have significantly contributed to public debate in Ireland for well over a century.
The performance theatre is home to UCD Dramsoc which was founded in the 1920s and whose alumni include Dermot Morgan, Neil Jordan, Jim Sheridan, Conor McPherson, and Brenda Fricker. Members of the society gain experience in performance, staging, writing and directing.
In total UCD has almost 100 active student societies and clubs which will avail of the various facilities in the new student centre.
The student centre also houses some of the latest sporting and training facilities; strongly represented by the Olympic-specification swimming pool. It is located at the centre of an 80 acre area of the Belfield campus known as the UCD Sports Precinct.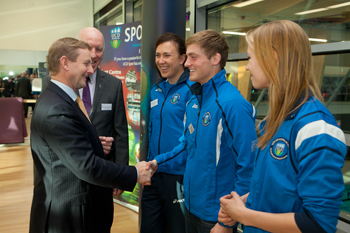 An Taoiseach Enda Kenny meets with UCD students Annalise Murphy (sailing) and Arthur Lanigan-O'Keeffe (pentathlon) who recently competed in the London 2012 Olympics, and Claire Lambe (right), UCD Ad Astra Scholar and Rower
The outdoor facilities within the UCD Sports Precinct include: the National Hockey Stadium, the UCD Bowl (the home of UCD rugby and soccer), and extensive playing pitches for GAA, soccer and rugby. The indoor facilities include: halls for basketball and for other court sports like handball, squash, and aerobics.
Many well known sporting figures like Brian O'Driscoll, Johnny Sexton, Joanne Cuddihy, Derval O'Rourke, and Kevin Moran, studied and trained at UCD.
The new 11,000 sq metre centre co-joins the pre-existing UCD Sport and Student Centres built some decades ago, and together they now provide an epicentre for social, creative and sporting activity totalling more than 22,000 sq metres.

50m Olympic specification swimming pool, housed in the new student centre at UCD
"[Today] marks another great milestone in the evolution of the UCD Belfield campus," said UCD President, Dr Hugh Brady.
UCDs move out of the city centre and onto the Belfield campus began in 1933 when, under the Presidency of Denis J Coffey, the university bough Belfield House on 44 acres for £8,000. Over the following decades UCD continued to purchase lands and estate houses eventually totalling over 380 acres.
In May 2007, after 124 years, the last UCD medical and engineering students made the journey from Earlsfort Terrace to the Belfield campus.
(Produced by UCD University Relations)