Posted 17 January 2013
Two recent UCD graduates shortlisted Irish Times Theatre Awards
Caitriona Ennis, a former UCD Ad Astra Performing Arts Scholar, who completed her MA in Drama and Performance (2012) and her BA in English and Drama (2010) at UCD, and Gavin Drea who completed his BA English and Film (2011) at UCD have been shortlisted for Irish Times Theatre Awards.
Caitriona has been shortlisted for 'Best Actress' for her portrayal of Young Girl in Anu Productions' 'The Boys of Foley Street' directed by Louise Lowe which was a major success at the recent Dublin Theatre Festival.
Gavin has been nominated for 'Best Supporting Actor' for his portrayal of Des in the Druid Murphy production of 'A Whistle in the Dark' directed by Garry Hynes, which toured Ireland, the UK, and USA during 2012 to great critical acclaim.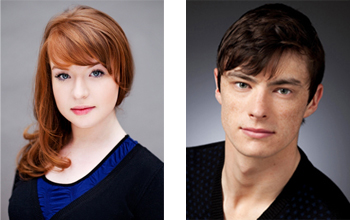 Catriona Ennis and Gavin Drea shortlisted for the Irish Times Theatre
Awards 2012
The Irish Times Theatre Awards started in 1997 and have each year continued to reward excellence in Irish theatre, from actors, directors, to production, writing and design.

The awards are open to all new plays performed by professional theatre companies in the Republic and Northern Ireland.
Those selected for the shortlist are profiled in The Irish Times in early January and the winners are announced at an award ceremony in February each year. The award ceremony is a prestigious, invite only event to celebrate the very best in Irish Theatre.
"What is clear is that there is a new confident generation who are aspiring not to join the mainstream, but to forge their own path," said John Fairleigh, one of the three judges for this year's awards.
"These are making work about their own lives, and they are talking to each other, people who you might not see in a conventional theatre."
Alongside his two fellow judges, Sinéad Mac Aodha and Damian Downes, John Fairleigh attended all eligible plays in order to compile a shortlist in each award category.

(Produced by UCD University Relations)