Posted 04 March 2013
UCD retain Collingwood Cup with 1-0 victory
UCD beat UCC 1-0 in Jordanstown to retain the Collingwood Cup, university football's biggest prize.
Striker Dave McMillan scored the games' only goal in the last 20 minutes as he picked up a misplaced pass just outside the penalty area, before beating UCC keeper Michael Dorgan with a low drive that may have taken a slight deflection on its way in.
McMillan could have doubled the result for UCD in the closing minutes after Andrew Neville handled a Michael Whelan drive inside the box, but he fired the spot-kick well-over the crossbar.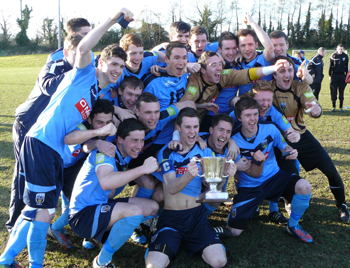 UCD team celebrate their victory
UCD were the more threatening side throughout as defenders Dave O'Connor and Tomas Boyle kept the normally dangerous UCC strike force of Simon Holland and Josh O'Shea under strict control.
In the end, McMillan's single goal was enough to bring the Collingwood Cup home to Belfield for the fourth time in five seasons.
Other sports news:
Although UCD's Ciara Everard came away from the European Championships in Gothenburg with no medal she gave a strong performance qualifying for the final and getting up to fourth as the race unfolded, before finishing sixth in the end.
Her 2:02.55 finishing time was just a split second outside her lifetime best. Victory went to the Ukrainian Nataliya Lupo who crossed the finish line in 2:00.26
"I'm a little disappointed I didn't get a bit closer," said Everard. "But I have to be happy, making the final in my first championships, and I will definitely take lots of positives from this, dealing with the three rounds, and move onwards from here."
Ciara, a UCD Ad Astra Elite Athlete Scholar, is in her fourth year of the BSc in Physiotherapy at the UCD School of Public Health, Physiotherapy and Population Science.
(Produced by UCD University Relations)