Posted 19 March 2013
UCD wins three of four Irish Colours Boat Races and takes Gannon Cup for sixth year in a row
UCD has won three of the four titles at the Irish Colours Boat Races: the Gannon Cup (senior men's eights), the Corcoran Cup (senior women's eights), and the Dan Quinn Shield (novice men's eights). The Sally Moorhead Trophy (novice women's eights) went to their opponents Trinity College Dublin.
The Colours Races which start at O'Connell Bridge and end at St James' Gate took place on Saturday 16 March this year as part of the St Patrick's Day Festival Celebrations. Lively crowds and supporters for both sides watched from the quays and the eight bridges above the 2.2km route along the River Liffey.
UCD finished the Gannon Cup, the main attraction of the four boat races, with several lengths clear advantage over TCD. The win gives David Neale of UCD his sixth Gannon Cup title making him a record holder in the event.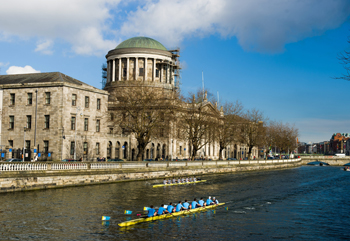 University College Dublin (foreground) and Trinity College Dublin Senior Men's in action in the Gannon Cup along the River Liffey
UCD won the Corcoran Cup by half a length after a strong battle between the two senior women's crews.
The Dan Quinn Shield for novice men's eights was also won by UCD following several exciting incidents - TCD having steering problems and UCD taking the unmarked south arch on Winetavern Street Bridge to avoid an underwater object.
The Sally Moorhead Trophy for novice women's eights was a straightforward win for TCD.
98FM build up to Irish Colours Boat Races 2013
First run in 1947, the Gannon Cup is named in honour of Ciarán Gannon, a University College Dublin student who rowed with distinction in the 1930s and raised the university club to new heights. After graduating in medicine in 1939, he joined the Royal Army Medical Corps and was killed in Burma in 1944.
The Corcoran Cup was first introduced in 1980. Initially for women's fours, it became an eights race in 1993. The Dan Quinn Shield and the Sally Moorhead Trophy, the two novice races were added to the Colours in recent years.

University College Dublin (left) and Trinity College Dublin Senior Women's in competition for the Corcoran Cup along the River Liffey
Gannon Cup (Senior Men's)

University College Dublin (UCD) - Cox: Kirsten Joyce; S: Peter Grogan; 7: Gearoid Duane; 6: Joseph Nihotte; 5: David Neale (6th colours); 4: Adrian Sheehan; 3: Liam McCarthy; 2: Michael Bailey; and B: Patrick Moore
Trinity College Dublin (TCD) - Cox: Clementine Yost; S: Matt Brophy; 7: Will Hurley; 6: Paul Flaherty; 5: Dillon Rooney; 4: Eoin McCarthy; 3: Aidan Harwood; 2: Luke Acheson; and B: Patrick Jacques
Corcoran Cup (Senior Women's)
University College Dublin (UCD) – Str: Bronwyn Lait; 7: Aoife Gilligan; 6: Grace Collins; 5: Claire Ní Reachtagáin; 4: Siofra Bennett; 3: Orla Finnegan; 2: Karen Joy; Bow: Aoife O'Riordan; and Cox: Ciara McGowan
Trinity College Dublin (TCD) - Cox: Niamh Williams; Stroke: Ruth Morris; 7: Georgia Richard; 6: Katie Phelan; 5: Susannah Cass; 4: Rebecca Deasy; 3: Keira Buttanshaw; 2: Sinead Rodger; and Bow: Gill Crowe
Dan Quinn Shield (Novice Men's)
University College Dublin (UCD) - Cox: Lucy-Anne O'Sullivan; S: James Ryan; 7: Robert Jones; 6: Cian Keogh; 5: Seamus Kennedy; 4: Eochy O'Connor; 3: Joseph Bollard; 2: Sam McDonald; and B: Daniel Craven
Trinity College Dublin (TCD) - Cox: Ciara Sheehan; S: Michael Corcoran; 7: Alex Rumball; 6: Fiachra Maguire; 5: Louis Mahon; 4: Niall Twaddell; 3: Brian MacAnnraoi; 2: Patrick Moreau; and B: Alex Leslie
Sally Moorhead Trophy (Novice Women's)
University College Dublin (UCD) - Stroke: Rebecca Lait; 7: Paula Campbell; 6: Meadhbh Ní Chléirigh; 5: Emma Ní Néill; 4: Michelle McCourt; 3: Breanna Larsen; 2: Eva Nugent; Bow: Laura Ryan; and Cox: Shauna Fitzsimons
Trinity College Dublin (TCD) - Stroke: Claire Buttanshaw; 7 Laura Daly; 6 Sarah Healy; 5 Dearbhla Moore; 4 Eimear Duff; 3 Emily Ranson; 2 Emily Jordan; Bow: Laura McKay; and Cox: Kirsty Patterson
(Produced by UCD University Relations)