Posted 19 April 2013
ICON and UCD announce the ICON Business Academy
ICON plc, (NASDAQ: ICLR), a global provider of outsourced development services to the pharmaceutical, biotechnology and medical device industries, and University College Dublin (UCD) have announced the ICON Business Academy.
Developed with the UCD Michael Smurfit Graduate Business School, the ICON Business Academy is offering a number of tailored, university-accredited programmes to ICON staff. The first of these programmes, the Certificate in International Business Management launches this month. This programme focuses on areas of increasing importance for companies operating in global markets such as managing and motivating teams across international boundaries and promoting a culture of innovation.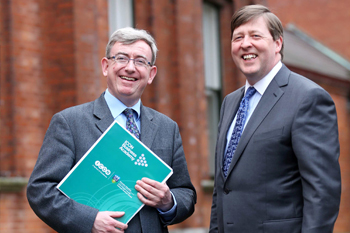 At the announcement of ICON Business Academy: Professor Ciarán O hOgartaigh, UCD Dean of Business and Ciaran Murray, ICON Chief Executive Officer
"As a people business that operates in a global environment, investment in leadership and talent is a key strategic initiative for ICON," said Ciaran Murray, ICON Chief Executive Officer.
"This partnership with UCD is enabling us to develop tailored management development programmes that will further enhance the leadership skills within ICON. As our market evolves, these skills will be increasingly important and will help us to continue to deliver excellence in customer service and quality to our global customers."
Professor Ciarán O hOgartaigh, UCD Dean of Business said: "We are delighted to be partnering with ICON and launching the Academy. This partnership works because we share similar perspectives on leadership development."
"Both ICON and UCD are recognised as global leaders – ICON in clinical research and UCD Smurfit School in business education – and we have designed an exceptional solution for ICON based on their specific leadership development needs."
There are plans for the ICON Business Academy to expand to other locations such as Asia Pacific and the United States.
ICON currently has approximately 10,045 employees, operating from 79 locations in 37 countries.
(Produced by UCD University Relations)