Posted 16 July 2013
Fulbright Awards for UCD scholars
Ten UCD scholars have been awarded Fulbright Awards to undertake research and teaching at leading US universities and institutions. This is the largest number of awards received by any one institution in Ireland in 2013.
Jointly funded by the Irish and US governments under the Ireland-United States Commission for Educational Exchange, the Fulbright Awards provide Irish and US students, scholars and professionals with the opportunity to study, lecture and research at leading universities and institutions in the US and Ireland respectively. They were first established in 1957.
The ten UCD recipients are:
Professor Maria Baghramian, Head of the UCD School of Philosophy. As a Fulbright Scholar at Harvard University, Professor Baghramian will be researching and writing on the Neo-Pragmatist Turn in American Philosophy


Dr Dympna Devine, Senior Lecturer, UCD School of Education, and Director of the UCD Social Sciences Research Center. Dr Devine is a Fulbright Scholar to the City University of New York, where she will evaluate educational policy and practice with migrant children in New York


Dr Áine Kelly, Irish Research Council postdoctoral fellow in the UCD School of Philosophy. As part of her Fulbright Scholar Award at The New School, New York, Dr Kelly will undertake research on Stanley Cavell and Contemporary American Fiction


Dr Philip Larkin holds a Joint Appointment an Associate Professor in Clinical Nursing (Palliative Care) the UCD School of Nursing, Midwifery, and Health Systems, and Our Lady's Hospice and Care Services in Harold's Cross, Dublin. On his Fulbright Scholar Award, Dr Larkin will explore compassion as the basis of palliative and hospice care at the Dana Farber Cancer Institute


Mr Kieran McCarthy, a graduate of University College Dublin graduate has just completed his Masters in International Affairs at L'Institut d'etudes Politiques de Paris. Kieran will pursue a LL.M. with a concentration in International Economic Law at Georgetown University on his Fulbright Student Award


Mr Ciarán Ó Braonáin will be a Fulbright Foreign Language Teaching Assistant at Villanova University. Ciarán has been teaching Irish at University College Dublin, where he also completed a Masters in Modern Irish History and in Irish Language Journalism and Communications at the UCD School of Irish, Celtic Studies, Irish Folklore and Linguistics


Ms Neave O'Clery is a Fulbright Schuman Scholar Awardee. Neave is a graduate of University College Dublin and is currently completing her PhD in Mathematics at Imperial College London. She will continue her research on the interface between network science and evidence-based strategies for economic growth at the Kennedy School at Harvard University


Dr Sandra Scanlon, Lecturer in the UCD School of History. Dr Scanlon will explore the interaction between foreign policy issues and the development of conservatism during the 1970s as a Fulbright Scholar at Emory University


Dr Ronan Sugrue is a medical doctor and graduate of both University College Dublin and the Royal College of Physicians in Ireland. He will undertake a Masters in Public Health at Harvard University, studying quantitative research methods, international health policy, and economics while on his Fulbright Student Award


Mr Garret Sweeney has recently completed a Masters in Writing and Communications in Irish at the UCD School of Irish, Celtic Studies, Irish Folklore and Linguistics. He will be a Fulbright Foreign Language Teaching Assistant at the University of Connecticut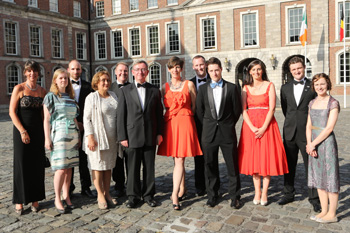 Pictured at the official ceremony in Dublin Castle: (l-r): Dr Dympna Devine; Ms Neave O'Clery; Mr Ciarán Ó Braonáin; Professor Maria Baghramian; Dr Philip Larkin; Prof Ciarán Ó hÓgartaigh, Dean of Business, UCD; Colleen Dube, Executive Directory, Fulbright Commission; Mr Garret Sweeny; Mr Kieran McCarthy; Dr Sandra Scanlon; Dr Ronan Sugrue; and Dr Áine Kelly
Speaking at the launch of this year's Fulbright Awards, Mr Patrick McDermott, Chair of the Fulbright Commission Board, said, "Year after year, the Fulbright Awards attract Ireland's top researchers, professionals, and graduates. With the breadth and expertise seen in this year's winners, I know that these current and future leaders will gain invaluable experience that they can share upon their return to Ireland."
Ms Colleen Dube, Executive Director of the Fulbright Commission, said, "The Fulbright Awards continue to reflect the diversity and depth of Irish academia."
"In this Gathering year we are especially delighted with the Fulbrighters' role as cultural ambassadors while in the US. With 37 Irish awardees going to the US and 13 Americans coming to Ireland this autumn, we are thrilled to be a part of the ongoing cultural and educational exchange between the two countries."
The next round of applications for Irish Fulbright Awardees will open on Wednesday, August 28th, 2013. Interested applicants in all disciplines are encouraged to visit the Fulbright Commission's website, www.fulbright.ie, for more information. All applications for the academic year 2014-2015 are due on Wednesday, November 13th, 2013.
(Produced by UCD University Relations)