Posted 16 September 2013
UCD Ulysses Medal for Professor Sir Stephen O'Rahilly
In recognition of his outstanding research contribution on the genetic causes of diabetes and endocrine obesity, Professor Sir Stephen O'Rahilly was awarded the UCD Ulysses Medal, the highest honour that the university can bestow.
The award was presented by Professor Des Fitzgerald, UCD Vice-President for Research, at the UCD Conway Institute Festival of Research & Innovation 2013 which marks the 10th anniversary of the Institute.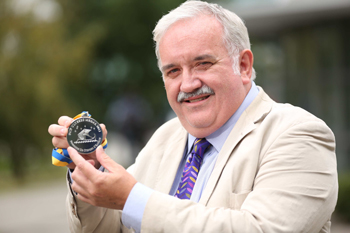 Professor Sir Stephen O'Rahilly with the Ulysses Medal
Originally from Dublin, Stephen O'Rahilly is Professor of Clinical Biochemistry and Medicine at the University of Cambridge and Honorary Consultant Physician at Addenbrooke's Hospital. He led the establishment of the Institute of Metabolic Science, which he now co-directs.
He is Scientific Director of the Cambridge NIHR Biomedical Research Centre. He qualified in Medicine from University College Dublin and undertook post-graduate training in London, Oxford and Boston before his appointment in Cambridge in 1991. He is a member of the UCD Conway Institute Scientific Advisory Board.
He has sought to better understand the molecular mechanisms leading to diabetes, obesity and related metabolic and endocrine disorders. He has won many national and international awards including the Heinrich Wieland Prize and the Inbev Baillet Latour Prize. He was elected to the Royal Society in 2003, a Foreign Associate of the National Academy of Sciences USA in 2011 and is an Honorary Member of the German Society for Internal Medicine.
In 2013, Professor O'Rahilly was appointed a Knight Bachelor in the Queen's Birthday Honours for his services to medical research.
The UCD Ulysses Medal was inaugurated in 2005, as part of the university's sesquicentennial celebrations, to highlight the 'creative brilliance' of UCD alumnus James Joyce. It is awarded to individuals whose work has made an outstanding global contribution.
(Produced by UCD University Relations)