Posted 23 September 2013
Taoiseach launches new UCD research institute to focus talent on energy systems integration
An Taoiseach, Enda Kenny TD has officially announced the establishment of the UCD Energy Institute. The Institute, which has attracted donor funding of €5m and substantial additional funding from industry, will concentrate its research on Energy Systems Integration which provides the basis for enhanced energy performance, reduced cost and minimises environmental impact – a challenge across the world.
It will partner in a major national initiative designed to produce a fully operational Smart Grid Network Test Bed in close collaboration with Ireland's electricity transmission and distribution system operators EirGrid and ESB Networks. The Test Bed will also provide opportunities for further collaboration with national and international companies in the energy sector and in the ICT sector. The integration of renewable energy to electricity grids is a strategically important research area for Ireland given its wealth of renewable energy resources and Ireland's electricity grid is uniquely positioned to be utilised as an international location for testing new technologies.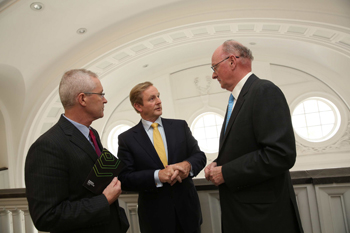 Pictured at the launch: Dr Hugh Brady, President of UCD; An Taoiseach, Enda Kenny TD; and David O'Reilly, CEO of Chevron
The new UCD Energy Institute will host over 200 world class energy researchers working in partnership with industry and the energy policy community and builds on prior research investments by SFI, Enterprise Ireland, Irish Research Council, EU and importantly, industry in this area.
"Energy research is a strategic priority for UCD and establishing the UCD Energy Institute reflects of our ongoing commitment to this important area. This is a highly competitive field internationally and we are proud of our research leaders who have built a strong reputation for research excellence on the world stage that can now realise benefits for Ireland," said UCD President, Dr Hugh Brady.
An Taoiseach, Enda Kenny, TD said: "We are at an exciting juncture in energy research. With the right ideas, talent and support, the next decade has the potential to be transformative in how Ireland produces, uses and transmits energy. UCD's new Energy Institute will prove an invaluable resource in solving our energy challenges and realising new opportunities. This initiative clearly demonstrates the ability of our public institutions to work together and with other stakeholders in pursuit of common goals and scientific excellence. The Government will continue to support investment in science, technology and innovation through our Action Plan for Jobs."
The UCD Energy Institute will be led by UCD Professor of Electrical Engineering, Mark O'Malley as Scientific Director and Paddy Teahon as Executive Director. The Strategy for the Institute was developed by the UCD Energy Advisory Board led by David O'Reilly, UCD graduate and former CEO of Chevron. It builds on the reputation of UCD as a leading centre for energy research, in particular UCD's Electricity Research Centre supported by leading energy companies and its Petroleum Geosciences research supported by Tullow Oil and other oil industry companies and groups.
David O'Reilly, Chair, Energy Advisory Board, UCD said: "I am delighted that the Institute is now up and running. I am confident that it will attract high calibre researchers who will help propel Ireland to a leadership position in energy research."
Jerry O'Sullivan, Managing Director ESB Networks Ltd said: "ESB is delighted to be involved with the new UCD Energy Institute which we know will transform energy research here in Ireland and internationally. As a leading destination for energy researchers the Institute will capitalise on UCD's academic expertise across Engineering, Science, Business, Law, Economics and Behavioural Sciences. ESB is committed to the development of Smart Electricity Networks which will implement Smart Grid initiatives and enable the development of renewable technologies capable of making a substantial contribution to transforming and decarbonising the energy industry. We are delighted to be involved in a number of research projects which will enable this to happen and to position Ireland as a leader in the energy field."
Michael Walsh, EirGrid's Executive Director for Corporate Affairs, Planning and Strategy said: "EirGrid shares UCD's strong commitment to ensuring that Ireland plays a leading role in the world of energy research. Already Ireland and Northern Ireland's power system has higher levels of instantaneous wind penetration than any other synchronous system in the world. This creates a unique opportunity to develop new world leading technologies and UCD's energy institute will play a crucial role in delivering the cutting edge research to support this.
EirGrid is committed to working with all our partners including the UCD Energy Institute to deliver a Smart Grid that will continue to providing secure, sustainable and competitive power for consumers and making sure that the island of Ireland is well placed to attract high-technology employment."
(Produced by UCD University Relations)