Posted 10 October 2013
Long-time partners, Inland Fisheries Ireland and UCD sign MOU
Inland Fisheries Ireland (IFI) and University College Dublin (UCD) have signed a Memorandum of Understanding (MOU) expressing their commitment to a continued rich and productive liaison in research.
Over the past 50 years, scientists from UCD and the fisheries service have worked in collaboration in producing research that has covered an extraordinary range of projects – from aquatic plant to macro-invertebrate and fish stock studies. In recent years the range has extended even further with collaborative micro-satellite DNA studies of fish stocks being undertaken.
"With the current limited public purse, this agreement will ensure a greater degree of symbiosis between these two organisations resulting in increased productivity, avoidance of duplication and strategically focused research," said Fergus O'Dowd TD, Minister of State at the Department of Communications, Energy & Natural Resources, who officially witnessed the signing of the MOU at UCD on 07 Oct 2013.
"It is my hope that this academic research, when coupled with applied research and practical application, will serve to increase our understanding on the inland fisheries resource though the use of novel technologies like DNA, environmental DNA and the development of bio-controls," he said.
Minister O'Dowd also stressed the importance of the MOU in providing graduates and postgraduate with exposure to applied science and an opportunity to contribute to our understanding of the fresh water resource and to support its management, conservation and protection.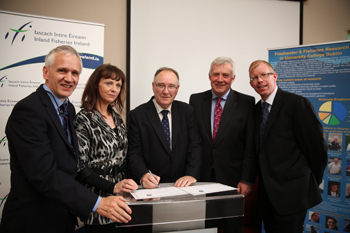 Professor Joe Carthy, Dean of Science, UCD; Dr Mary Kelly-Quinn, UCD School of Biology and Environmental Science; Brendan O'Mahony, Chairman, Inland Fisheries Ireland (FI); Fergus O'Dowd TD, Minister of State at the Department of Communications, Energy & Natural Resources; and Dr Ciaran Byrne, CEO Inland Fisheries Ireland; and Dr Cathal Gallagher, Head of Research IFI

The Head of Research at Inland Fisheries Ireland, Dr Cathal Gallagher said: "I am confident that the MOU [signed here today] will act as an impetus to move forward with future collaboration in development of research techniques and projects to support the conservation and development of the natural resource that is inland fisheries.
"I see a vital role for IFI in supporting the development and education of the next generation of scientists into whose hands the future of this resource will be placed and I wish to acknowledge the great work undertaken by those who have brought us to where we are today – management of fisheries on the basis of sound science'.
"This MOU will provide great opportunity for collaborative research with an industry partner" said Dr Mary Kelly-Quinn, UCD School of Biology and Environmental Science, University College Dublin.
"Our students will benefit enormously from unrivalled training in applied research and interaction with senior scientists dealing with emerging issues in aquatic and fisheries science. More so than ever before we appreciate the importance of building linkages with industry to ensure that we produce graduates that are able to enter the workforce and contribute to economic recovery through sustainable use of our countries resources. Today's announcement is a step towards a greater goal which sees the development of a Centre for Fisheries Research here in UCD with the support of IFI."
Inland Fisheries Ireland (IFI) is a statutory body operating under the aegis of the Department of Communications, Energy and Natural Resources and was established under the Fisheries Act on 1st July 2010. Its principal function is the protection and conservation of the inland fisheries resource. IFI promotes, supports, facilitates and advises the Minister on, the conservation, protection, management, development and improvement of inland fisheries, including sea angling. It also develops and advises the Minister on policy and national strategies relating to inland fisheries and sea angling.
(Produced by UCD University Relations)