Posted 13 November 2013
UCD Ulysses Medal for world-leading chemist
Professor Barry Trost has been awarded the UCD Ulysses Medal. A member of the National Academy of Sciences and a Fellow of the American Chemical Society, Professor Trost is currently the Tamaki Professor of Humanities and Sciences at Stanford University. He is one of the most highly cited chemists in the world, with over 63,000 citations of his 966 publications.
"This award recognises Professor Trost's distinction in the sciences; his outstanding contribution to the field of synthetic organic chemistry, most notably in the development of Palladium catalysts and his pioneering work in 'atom economic' processes," said UCD President, Dr Hugh Brady, who presented the award.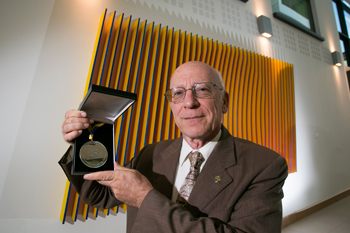 Prof Barry Trost pictured with the UCD Ulysses Medal
Before receiving the award on 14 Oct 2013, Professor Trost gave the Wheeler Lecture in the UCD School of Chemistry and Chemical Biology entitled "On the Invention of Pd Catalyzed Reactions for Enabling Chemical Synthesis" to an audience of 250 staff, students and visitors. He also signed the Wheeler Wall in the School to add to the over 20 eminent previous Wheeler speakers. Professor Wheeler was Head of the Department of Chemistry at UCD from 1945-1962.
Previous Wheeler Lecture speakers include the Nobel Laureates, Professor R. B. Woodward (Harvard), Professor Bob Grubbs (Caltech), Professor Sir Geoffrey Wilkinson (Imperial College London), Professor Sir Derek Barton (Imperial College London) and Professor Sherry Rowland (University of California at Irvine).
The UCD Ulysses Medal is the highest academic honour that the university can bestow and is awarded to those whose work has made an outstanding global contribution. The Medal was inaugurated as part of UCD's sesquicentennial celebrations in 2004 and celebrates the creative brilliance of our alumnus James Joyce.
(Produced by UCD University Relations)