Posted 19 November 2013
Irish-Florentine bronze sculpture representing harmony of the elements relocates to UCD
A renowned sculpture that has captivated the public imagination in the Italian art capital of Florence has come home to Ireland and a landmark new location on the grounds of University College Dublin.
Standing at almost 5 metres high, 'Wind and Water'is a bronze sculpture featuring two back to back dancing figures. It is considered to be a life masterpiece by its creator, Irish sculptor Paddy Campbell, who is based in Florence and recently unveiled it to much acclaim in the Palazzo Medici Ricardi museum in the heart of the city.
It has now been inaugurated by the President of UCD, Dr Hugh Brady together with Paddy Campbell beside the new water feature and boardwalk on the Belfield campus. Forming an integral part of the UCD Sculpture Trail, the sculpture is located in the centre point between the UCD Engineering and Material Science Centre and the UCD Gerard Manley Hopkins International Centre.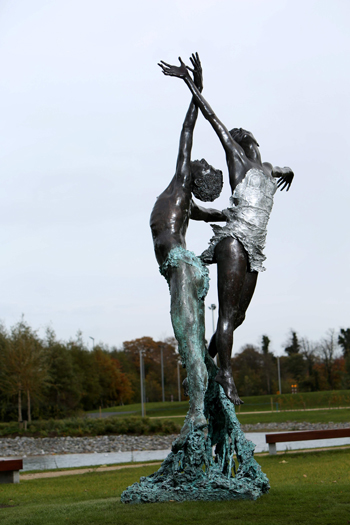 Pictured at UCD: Bronze sculpture representing harmony of the elements: 'Wind and Water' by Paddy Campbell
While sculpting and unveiling his major work of art in Florence, Campbell's dream was to relocate the sculpture to Ireland and this has come true as 'Wind and Water' finds its new home at University College Dublin where it will be seen by thousands of people crossing the campus each day.
The location for the sculpture is a perfect place for sculpture which is Paddy Campbell's giant tribute to the elements. The powerful bronze sculpture commands attention with male and female figures absorbed in a delicate dance representing a delightful harmony between wind and water.
Paddy Campbell "Di Cuore" from paddy campbell on Vimeo.
"We're delighted to have this beautiful sculpture for all of our students, staff, visitors and the wider public to enjoy," said UCD President, Dr Hugh Brady.
"As a lifelong learning environment UCD is also a centre of environmental, cultural and artistic amenity for everyone to enjoy. This exceptional work by the accomplished Irish sculptor Paddy Campbell will provide many enjoyable experiences for everyone who views it as they reflect on its meaning within the vibrant surroundings of UCD where it has now come home."
"Sculpting is a deeply spiritual process and for me it is a constant and ongoing journey. This sculpture took immense energy to create and I'm thrilled that it will be exhibited so prominently and in such a prestigious location as University College Dublin," said Paddy Campbell.
"I hope it will bring much contentment to everyone who sees it, matched by an appreciation of the beauty of nature where wind and water are among the most powerful of the elements."
About Paddy Campbell:
His father came from County Tyrone to settle in Dublin, where Paddy was born during the Second World War. Ireland, north and south, with its rich heritage of music and words, has instilled in Campbell an enduring love of stories and poetry, which he now manifests in sculpture. Florence, with its deep cultural heritage in the visual arts, was the perfect place for him to discover and develop his talent for sculpture.
The works of Paddy Campbell have been exhibited in prestigious venues including the Royal Hibernian Academy in Dublin, Gormley's Fine Art in Dublin and Belfast, Petley's Fine Art in London, the Galleria Franco Senesi Fine Art In Positano and Capri, the Spagnoli Gallery in Florence, the Palazzo Communale in Fiesole, the Palazzo Corsini in Florence, the Palazzo Medici Ricardi museum the Palazzo d'Arnolfo in San Giovanni Valdarno, and the Casa Cellini in Vicchio.
Other commissioned public and private works include the official portrait of the former President of Ireland Mary McAleese, the portrait of the Chancellor of the University of Limerick, Sean Donlon, and a memorial to people missing to the sea off Bantry Bay, Cork, Ireland.
(Produced by UCD University Relations)