Posted 25 November 2013
UCD Foundation Day honours for outstanding alumnus and UCD President
The UCD Foundation Day Medal has been awarded to Dr David O'Reilly. David is a UCD Engineering graduate who rose to the very top of one of the most competitive industries in the world as Chairman and CEO of Chevron Corporation.
The Medal is awarded annually to a University College Dublin graduate who demonstrates great achievement.
"In recognition of his meteoric rise from UCD Chemical Engineering student to the pinnacle of the world oil industry and equally for his willingness to give back to his alma mater, not just financially, but also of his time, energy and wisdom to nurture future generations of UCD students, it is my great pleasure to present the 2013 UCD Foundation Day Medal to David O'Reilly," said UCD President, Dr Hugh Brady.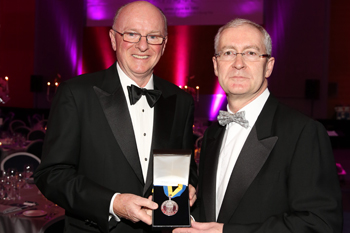 Former CEO of Chevron, Dr David O'Reilly was presented with the UCD Foundation Day Medal by UCD President, Dr Hugh Brady
"David always appears to carry his great achievements lightly, and is equally engaged and courteous in discussions with undergraduate students and with national leaders. Generations of students and researchers in UCD will benefit from his leadership and from his generosity."
Previous recipients include: Peter Sutherland, Maeve Binchy, Brian O'Driscoll and Bill Whelan. It was inaugurated in 2004 to coincide with the 150th anniversary of the opening of UCD's antecedent institution, the Catholic University of Ireland.
At the UCD Foundation Day Event, which celebrates the founding of University College Dublin, honours were also given to UCD President, Dr Hugh Brady, whose term as President finishes at the end December 2013.
The Minister for Education and Skills, Ruairí Quinn TD paid tribute to Dr Brady's outstanding leadership of the university.
"We are also here to celebrate the most transformative decade in UCD's history, which could not have come about, in my humble opinion, without the inspired leadership of Dr Hugh Brady."
"[Hugh] you have transformed this campus both physically and metaphysically and in a sense of internationalisation that is a long, long way from Earlsfort Terrace," he said.
Peter Sutherland SC also paid tribute to the UCD President.
"Hugh Brady has taken the legacy left to him by his predecessors... and he has come to this place and helped to form, and found, an institution in a different place, with the old character but with a campus that bears comparison to the very best in the world."
"What has happened to UCD and the course that it is on is the cause of our celebration this evening. And in particular the cause of our celebration is an individual who has made an impact to our educational system which is totally out of the ordinary, totally exceptional, and extremely important for our country and our children."
"Anyone who has worked with Hugh Brady since 2004 will testify not merely to his energy, to his commitment, and to his high competence, but they will also testify to his vision - a vision that is evident right around the campus."
"The vision has been the essential element that he has provided, and has had such an enormous impact on this university," he added.
"It is a vision which is founded upon the students themselves. It is holistic vision of education. A holistic vision like that of Newman himself in his "Idea of a University"
"That vision is the real enduring legacy that he [Hugh Brady] leaves behind."
(Produced by UCD University Relations)