Posted 21 January 2014
Three artists selected for UCD Science: Artists in Residence 2014
Cindy Cummings, Sofie Loscher, and David Stalling have been selected for the UCD Science: Artists in Residence 2014.
Cindy Cummings is an internationally acclaimed, award-winning dance artist based in Dublin, whose practice regularly crosses boundaries between dance, theatre and live art. A hallmark of Cindy's practice is her collaborations with international artists from different disciplines.
Sofie Loscher is an installation artist and sculptor working at an intersection between art and science. Her work is characterised by an interest in the physical properties of the natural world, such as air pressure, temperature, magnetism, fluid density and specular reflection.
David Stalling, originally from Germany, has been working as a composer, improviser, sound and installation artist since the early 1990s. He is particularly interested in exploring the consequences of human actions on flora, fauna, and ecosystems, through field excursions to locations of interest in conjunction with scientific expeditions.
"[This programme] endeavours to combine the language of science with the language of art, to contribute to the creation of a new language through which we can investigate, interpret and understand the world around us," said UCD President, Professor Andrew J Deeks who announced the selected artists at a special event in the UCD O'Brien Centre for Science.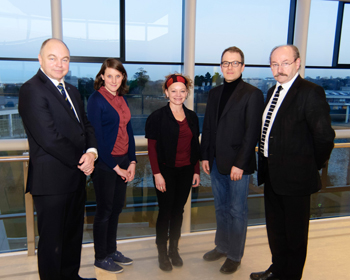 Pictured at the announcement: Prof Andrew J Deeks, President of UCD; Sofie Loscher; Cindy Cummings; David Stalling and Prof Declan McGonagle, Director National College of Art & Design

The three artists announced for the UCD Science: Artists in Residence 2014 were selected from over 60 applications. The selection panel chose the artists in light of the artists' proposals, their work to date, and their track record in collaborative work, which is the bedrock of the residencies.
The UCD Science: Artists in Residence is part of the UCD Science: Art in Science programme; an initiative that emerged following a research collaboration between Professor Lorraine Hanlon, UCD School of Physics, and artist Emer O'Boyle which resulted in a series of portraits interpreting aspects of physics and the people in that world. This exhibition is on permanent display in the School.
Subsequently, the UCD School of Physics and the National College of Art and Design (NCAD) put together an undergraduate module – Tunnelling Art and Science – which seeks to replicate this type of collaboration between the scientist and artist. The module is shared by students of fine art from NCAD and students of physics from UCD. The experience of exploring each other's topics has been so positive that the module is being broadened out to involve a wider group of students at UCD.
The UCD Science: Artists in Residency is a ten year commitment from the UCD College of Science towards encouraging high quality inter-disciplinary practice, exploration and collaborative partnerships between artists and scientists, both student and professional, and providing a platform for enhancing and developing the cultural life of the UCD community, through seminars, performances and exhibitions.
(Produced by UCD University Relations)