Posted 28 February 2014
50th Anniversary of MBA at UCD Smurfit Graduate Business School
University College Dublin was the first university in Ireland, and one of the first in Europe, to offer an MBA. This year marks the 50th anniversary year of the introduction of the MBA at University College Dublin. It was first introduced in 1964.
"Creating an environment where entrepreneurs can flourish and nurturing the next generation of business leaders through learning opportunities is an essential driver of social and economic progress," said the Minister for Education and Skills, Ruairí Quinn TD who attended a special event to mark the 50th Anniversary of the MBA at UCD.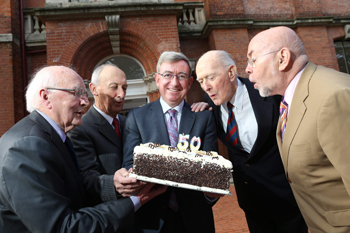 Pictured above l-r, Gerry Curley MBA 1966, John Neiland, MBA 1966, Professor Ciarán Ó hÓgartaigh, Dean UCD Business, Joseph O'Loughlin, MBA 1966, Minister for Education and Skills, Ruairí Quinn, TD
"Investing in entrepreneurship education, such as that provided by the MBA at UCD, is an investment where Ireland reaps a high return. UCD has played a pioneering role in business education for over 100 years."
"Looking back, we can see how the MBA at UCD has grown from modest beginnings. Today, I acknowledge UCD Smurfit School's ongoing commitment to transforming and evolving business education to suit the times we live in and anticipating the future needs of the Irish and global economies."
"The School has justifiably positioned itself as one of the leading business schools in the world."
Guests at the special event included members of the first MBA class, as well as MBA Alumni and current students. The School will be running a series of events throughout the year to celebrate this milestone, including an MBA Alumni Association Speaker Series, a Business Summit and culminating in an MBA gala dinner.
"In I964, the first 19 graduate students crossed the threshold of what was then UCD's campus in Earlsfort Terrace to commence their MBA studies. They were pioneers, as we were, willing to embrace new challenges," said Professor Ciarán Ó hÓgartaigh, Dean, UCD Business.
"Today we have just over 170 MBA students studying at UCD Smurfit School. We are one of less than 50 schools in the world – and the only one in Ireland – to hold the prestigious triple crown of international accreditations by AACSB, EQUIS and AMBA."
"Our MBA has been consistently ranked in the world's top 100 for the last 15 years by the Financial Times and Economist"
Since it launched in 1964, the MBA at UCD has educated over 3,500 business leaders and entrepreneurs, many of whom are prominent figures in the Irish and international business arenas, such as Patrick Haren, Group Chief Executive, Viridian Group PLC; Richard Keatinge, Chairman of Heiton Group plc; John Mullins, CEO, Bord Gais; Dermot Byrne, CEO, Eigrid; Gina Quin, CEO Dublin Chamber of Commerce; Ned Sullivan, former CEO Bailey's Irish Cream and former CEO of Glanbia plc and JP Donnelly, Chief Executive of the Ogilvy Group in Ireland and Head of Country, WPP.
Key MBA Milestones from 1964-2014:
1964: UCD launches the part-time MBA in Earlsfort Terrace. 19 students enrol
1970: MBA relocates to Belfield Campus
1991: Full-time MBA is launched & MBA relocates to the new UCD Smurfit School campus in Blackrock
2000: Full-time MBA course is ranked by the Financial Times for the first time, the only
Irish business school to feature
2002: UCD Smurfit School becomes the 1st school in Ireland to receive triple accreditation from accrediting bodies in the US, UK and Europe
2006: Overseas study tours commence, including China
2008: India introduced as an option for overseas study tour
2009: Leadership & Development Programme launched as part of the MBA curriculum
2010: Brazil introduced as an option for overseas study tour
2013: MBA Alumni Association launched
2014: 135 Executive part-time MBA students and 36 full-time MBA students.
(Produced by UCD University Relations)