Posted 06 June 2014
UCD team to represent Ireland at 2014 Enactus World Cup Final with social entrepreneurship project
A team of University College Dublin students who created a project called "Generation Accommodation" that matches students who can't afford to pay accommodation costs with elderly people living alone has won the 2014 Enactus Ireland National Competition.
The UCD team will travel to the 2014 Enactus World Cup Final in Beijing this October. At the final, they will meet with 35 other national winning teams, and present the results of their community outreach projects to international business leaders. Through a written report and a live audio visual presentation, the teams are evaluated on how successful they have been at using business concepts to improve the quality of life and standard of living for people in need.
The Enactus World Cup is a showcase of the impact that Enactus teams are achieving around the world and brings together an international network of student, academic and business leaders.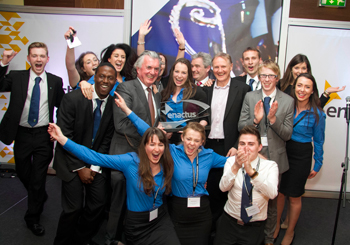 Winning UCD Enactus team pictured at the 2014 Enactus Ireland National Competition
The UCD team, led by Aoife Buckley (MSc in Management Consultancy, UCD Michael Smurfit Graduate Business School) includes: Roisin Lee (MSc Management Consultancy), Constantin Lenk (MSc Management Consultancy), Patricia Kastner (MSc Supply Chain Management), Cian O'Sullivan (BA Economics, Politics and Statistics), and Andrea Harvey (BComm).
"Participating in Enactus has been a fantastic experience for the whole team and it is a great feeling to be acknowledged for the hard work we put in throughout the year. We're thrilled to present the continued success of our project, Generation Accommodation on a global scale at the Enactus World Cup," said UCD's Aoife Buckley.
"The success achieved by University College Dublin is a strong testament to the ability of entrepreneurial action to enable real change," said Enactus Chairman, Terence O'Rourke. "We were really impressed by their presentation and the way they have developed and expanded Generation Accommodation."
The Enactus Ireland National Competition, is an annual event, where students come together to present the projects they have pioneered over the last 12 months and demonstrate how they are transforming lives and enabling progress through entrepreneurial action.
The judges, including Leinster Rugby Captain and Enactus Ireland non-executive director, Leo Cullen, evaluated the quality and impact of the projects before announcing the UCD team as winners.
Presenting the award to the winning team from UCD, Joe Schmidt, Ireland Rugby Head Coach, said, "Congratulations to the team from UCD on winning the 2014 Enactus Ireland National Competition and to all the finalists who took part. Enactus is a fantastic initiative that inspires university students to create innovative solutions to tackle real-world problems.
These incredible students are paving the way for the next generation of socially responsible business leaders who understand that sustainable business solutions are a tool for positive change. I wish UCD every success at the World Cup in Beijing and I'm sure they will do their university proud."
Enactus in an international non-profit organisation founded on the basic principle that entrepreneurial action can be a powerful catalyst for human progress. Guided by educators and supported by business leaders, it provides a platform for teams of outstanding university students to create community development projects, while developing the skills to become socially responsible business leaders of the future.
Other UCD students involved in the creation and development of the Generation Accommodation project include: Eimear O'Donnell (MSc Management Consultancy), Peter Morrissey (MSc Management Consultancy), Nubi Kayode (MSc iBusiness), Cormac Flood (BComm), Caiterina Lee (BBL), Victor Cessena (Msc Management Consultancy), Anna Flynn, Stephanie O'Malley, Peter Liu and Gillian O'Sullivan.

(Produced by UCD University Relations)