Posted 23 September 2014
HRH Princess Maha Chakri Sirindhorn of Thailand tours UCD Lyons Research Farm
Her Royal Highness Princess Maha Chakri Sirindhorn of Thailand recently visited UCD's Lyons Research Farm to discover how the facility is used to support teaching and research at the UCD College of Agriculture, Food Science and Veterinary Medicine. 151 hectares of the 228 hectare UCD Lyons Research Farm is a grazing area for dairy and beef cattle, sheep and horses, and around 62 hectares is used for tillage. Typically some 1,000 animals are housed on the farm.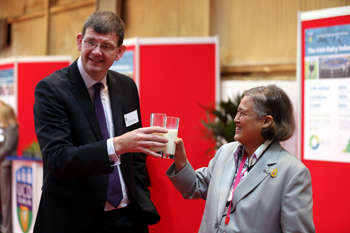 Professor Mark Rogers Registrar and Deputy President of UCD pictured with Her Royal Highness Princess Maha Chakri Sirindhorn of Thailand
Pictured far right: Her Royal Highness Princess Maha Chakri Sirindhorn of Thailand and farmer Michael Clarke, at UCD Lyons Research Farm
To mark the occasion, the university has announced a scholarship in the Princess' name. At present, there are students from Thailand studying at UCD School of Business, UCD School of Medicine and Medical Science, and UCD School of Politics and International Relations.
Earlier this year, UCD announced the construction of a new Dairy Research and Education Facility at Lyons Research Farm to support research programmes in dairy production including genetics, nutrition and herd health management. The facility is part of a €2 million plus investment supported by Dairymaster, Devenish Nutrition, Glanbia, FBD, Munster Cattle Breeding Group, Progressive Genetics and the Irish Holstein Friesian Breeders Association. It will serve as an international showcase for the best in Irish dairy technology.
UCD agricultural science degree students can achieve 40 credits out of a total course credit requirement of 240 on the farm, equivalent to 17% of the credits for the degree course. In the case of UCD veterinary students, the farm provides a basis for 11% of the credits required to graduate with a degree in veterinary science.
(Produced by UCD University Relations)