Posted 18 November 2014
Monumental five-volume work illuminates 1600 years of Art and Architecture in Ireland
A five-volume authoritative and fully illustrated account of the art and architecture of Ireland from the early Middle-Ages to the end of the 20th century has been published by Yale University Press for the Royal Irish Academy and the Paul Mellon Centre.
The monumental work, which explores all aspects of Irish art and architecture across 1600 years, offers new insights into every facet of the strength, depth and variety of Ireland's artistic and architectural heritage from high crosses to installation art, from Georgian houses to illuminated manuscripts, from watercolours and sculptures to photography, oil paintings, video art and tapestries.

Art and Architecture of Ireland (in five volumes) is the work of 10 editors and over 250 contributors. The project had its genesis in an original idea from Dr Nicola Figgis and Professor Paula Murphy of the UCD School of Art History and Cultural Policy, University College Dublin, to update Walter Strickland's seminal work on Irish artists, A Dictionary of Irish Artists published in 1913, which catalogues the lives of artists, engravers, and sculptors. This idea then grew to include architecture, medieval art and the 20th century and so extended from two to five volumes.

"The Royal Irish Academy's Art and Architecture of Ireland is a treasure trove that showcases our artistic heritage like never before and is a fitting celebration of our extraordinary, but often unrecognised, visual culture - in painting, in sculpture and in the ultimate social art, architecture," said An Taoiseach, Enda Kenny who officially launched the publication.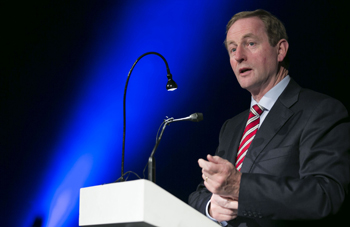 An Taoiseach, Enda Kenny pictured at the launch
"This project would not have come to fruition without the endeavours of many skilled, talented and knowledgeable people within the Academy and beyond it and I am delighted to pay tribute to their considerable work as well as those who have supported the project to its impressive conclusion," he said.

The Minister for Arts, Heritage and the Gaeltacht, Heather Humphreys TD who also attended the launch said, "These beautifully presented books aren't just for experts; they are designed to open up the world of Irish art and architectures to a wide audience."

"This project is quite simply unique and I am sure that it will help to enhance the visibility of Irish art and academic research both at home and abroad."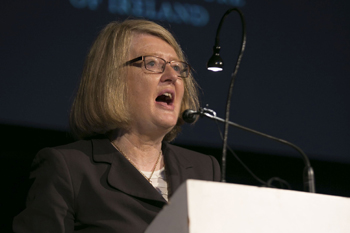 Professor Mary E Daly, President of the Royal Irish Academy pictured at the launch
"Art and Architecture of Ireland firmly establishes Ireland's visual culture as a fundamental pillar of our cultural identity and it scotches the notion that Ireland has little or no visual culture," said Professor Mary E Daly, President of the Royal Irish Academy.

The project was funded by the Naughton Foundation and the Department of Arts, Heritage and the Gaeltacht.

"This monumental work celebrates the best of Irish art and architecture and brilliantly reveals Ireland's visual culture to the world. The realisation of this imaginative and ambitious project into five beautiful books is a great joy to me and one that the Naughton family are proud to have been involved in," said Carmel Naughton of the Naughton Foundation.

The Art and Architecture of Ireland - a five-volume scholarly work which spans the period from medieval times through to the end of the twentieth century.

Volume I: Medieval art and Architecture 400 – 1600
Rachel Moss, Editor

A survey of all aspects of the rich and varied visual culture of Ireland from c.400-c.1600 is introduced in this volume. Based on many years of original scholarly research, this magnificently illustrated book contains over three hundred lively and informative essays. Readers can enjoy expanding their knowledge of medieval Ireland through explorations of the objects and buildings produced and the people that created them.

Volume II: Painting 1600 -1900
Nicola Figgis, UCD School of Art History and Cultural Policy, University College Dublin, Editor

More than three hundred entries provide biographical information on Irish painters of the seventeenth, eighteenth and nineteenth centuries, based on original research much of it undertaken in hitherto unexplored archives. In addition to thematic essays, the book contains hundreds of fine colour illustrations and information not available anywhere else.

Volume III: Sculpture 1600 – 2000
Paula Murphy, UCD School of Art History and Cultural Policy, University College Dublin, Editor

Irish sculptors have made a significant contribution to the development of their art form both within and outside Ireland. This volume explores four centuries of their work. The richly illustrated book contains biographical information on individual artists and analytical assessment through thematic essays establishing a context for sculpture throughout the country.

Volume IV: Architecture 1600-2000
Rolf Loeber, Hugh Campbell (UCD School of Architecture, University College Dublin), Livia Hurley (UCD School of Art History and Cultural Policy & UCD School of Architecture), John Montague and Ellen Rowley, Editors

The most complete survey of architecture in Ireland ever published. All aspects of Ireland's built environment including buildings, infrastructure, landscape development, town, cities, agricultural, public and private construction and much more are explored. The volume challenges and expands the traditional understanding of Irish 'architecture' by using illustrations and giving novel and exciting interpretations of the field.
Volume V: Twentieth Century
Catherine Marshall and Peter Murray, Editors

This volume covers the work of recent conceptual and digital artists as well as that of those who used more traditional media. Definitive biographies of many of the key artists of the age are included and the volume also addresses the main political and social issues that lay behind twentieth-century Irish art.
(Produced by UCD University Relations)