Posted 01 July 2015
Maeve Binchy UCD Travel Award 2015 Winner: John McHugh
The 2015 annual Maeve Binchy UCD Travel Award winner is John McHugh. From Barna, Co Galway, John is a current Masters in Fine Arts student at University College Dublin where he is working towards the completion of his debut short story collection. 
John's project is to track Lenin's journey in April 1917, from Switzerland to Leningrad.  Describing his plan, McHugh explains "the sealed carriage, containing Lenin, travelled through Germany, Sweden, Finland and across the Baltic Sea, and I want to follow this exact path. The entire journey, which began with Lenin hearing in passing about the beginning of the revolution in Russia (a moment itself worthy of a Monty Python sketch), is bizarre, surreal, and rife with potential.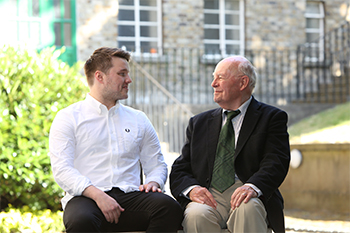 Winner of Maeve Binchy UCD Travel Award 2015 John McHugh pictured with Gordon Snell, husband of Maeve Binchy

What fascinates me about travelling is the period before you arrive at your destination, how all your thoughts are either lost in the past or drifting to the future. In the midst of travelling, the present is partially erased for the journey goer." he says.
"Maeve Binchy herself explored a form of this idea in 'The Lilac Bus', where the journey to Rathdoon acts a mode of reflection. The bus grants the characters' sustained space to examine themselves, whereas Rathdoon and Dublin act as present points of drama. It is the quality of fluxion between past and future – musing upon past decisions whilst racing towards future ones, the present neither here nor there – which Lenin's journey represents for me."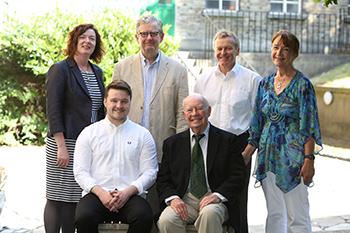 Pictured above Judging panel (back row) : Prof Margaret Kelleher, UCD School of English, Drama & Film; James Ryan, director of MFA, UCD School of English, Drama & Film; Niall McMonagle; Eilis Ni Dhuibhne, Novelist;
Front row: winner John McHugh and Gordon Snell
Inaugurated in 2014, the Maeve Binchy UCD Travel Award commemorates Maeve Binchy, her love of travel and her world-celebrated creative writing.  The Award, worth €4,000, is open to a student (undergraduate or postgraduate) currently enrolled in UCD's College of Arts & Celtic Studies. The winner uses the Award to fund a travel opportunity that to enhance her/his creative writing.  The winner was announced by award convenor Professor Margaret Kelleher, Chair of Anglo-Irish Literature and Drama, along with Mr Gordon Snell, husband of Maeve Binchy, at Newman House Dublin. The award judges are Niall McMonagle, Éilís Ní Dhuibhne and James Ryan.
'The Maeve Binchy UCD Travel Award is greatly cherished by our student body and the
UCD School of English, Drama and Film
has been delighted to develop it, with the support of the Maeve's family." Professor Kelleher said. "We can see its value, not only in the many quality applications we have received, but also in the widespread welcome for a writing award that encourages imagination and supports adventure. This a very fitting way to mark the continuing legacy of Maeve Binchy and we all warmly congratulate John on his success.'
(Produced by UCD University Relations)