Posted 04 August 2015
UCD students and staff come together to represent Ireland at international level in lacrosse
UCD will have twelve representatives competing across two international lacrosse competitions when the European Championships and the World Indoor Lacrosse Championships take place in August and September respectively.
The Irish women's national team will compete at the European Championships in Nymburk, Czech Republic, from August 6-15th.
Current UCD student, Nadine Fadel, will be joined by four UCD alumni in the form of Ashley DeFlumere, Orla McCourt, Evanna Murphy and Pamela Smithwick. The team is currently ranked at number 10 in the world.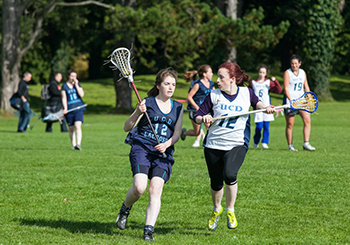 Evanna Murphy, who will join the 2015 Irish women's team, playing for UCD
Michael Kennedy, a UCD member of staff, will make his ninth major tournament appearance at international level.
He will travel to the World Indoor Lacrosse Championships, to be held in Syracuse, New York, from 18-27th September, along with UCD graduates  Zak Jordan, Ryan Doran, Tadhg Bolger, Paul Murran, Conor O'Brien and Ciarán Boylan. The men's team currently occupies 7th in the world rankings.
Lacrosse first originated with the Iroquis people in what is present-day New York. The games in Syracuse will be held in the Onondaga Nation Reserve, the first lacrosse event to be held on indigenous lands.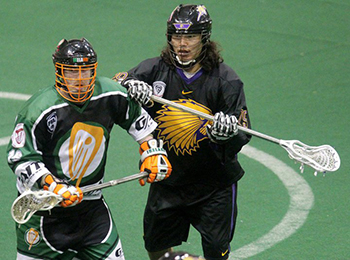 Michael Kennedy playing for Ireland in the 2011 World Indoor Championships

Brian Mullins, Director of Sport in UCD, said "It's great to see such a large UCD representation of student, staff and alumni are making the highest grade in Irish lacrosse and will, I am sure, represent themselves, their university and country with pride and distinction."
(Produced by UCD University Relations)