10 million year old fossilised frogs yield bone marrow
UCD researchers have extracted the first ever example of fossilised bone marrow from frogs and salamanders that died over 10 million years ago in a sub-tropical lake in north-eastern Spain. The marrow will provide unprecedented insights into the physiology of ancient organisms and may yield traces of organic molecules, such as protein and possibly even DNA.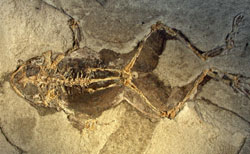 10 million year old fossilised frog specimen held by the Museu de
Geologia del Seminari, Barcelona, Spain
'This find, together with last year's reports of fossilised blood vessels in Tyrannosaurs rex, sets a new threshold for the kinds of tissues we can expect the fossil record to yield' says Maria McNamara, UCD School of Geological Sciences, who is leading the international team of scientists.
In a recent article published in GEOLOGY - the Journal of the Geological Society of America, McNamara explains that the ground breaking discovery occurred while she was examining the fossils for the preservation of other soft tissues - fortuitous fractures of the bones during the collection and archival process had exposed the marrow for her to find. She states that other exhumed fossils which may contain fossilised marrow may have been overlooked because the bones would have to be broken apart to expose it.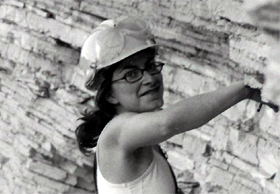 UCD School of Geological Sciences postgraduate Maria McNamara
undertaking fieldwork in northeastern Spain
The ancient bone marrow, discovered in the 10 million year old fossilised frogs and salamanders, was preserved in three dimensions as organic residue, retaining its original texture and red and yellow colour. Dr Patrick Orr, UCD School of Geological Sciences, attributes this exceptional preservation of the marrow to what is called cryptic preservation – where the bones of the frogs formed microenvironments that shielded the marrow from bacterial infiltration and retarded decay until preservation could take place.
McNamara and scientific collaborators from the UK, USA and Spain, must now determine what the fossilised marrow is made of. 'We have started the geochemical analysis, but we're not finished' she says. The fact that part of the marrow is red makes it likely that it carries some of the original biological materials. 'The whole subject of DNA preservation in fossils is controversial' she adds, 'we'd be quite happy if we get traces of protein.'
The research is funded by Enterprise Ireland.
RTE News Coverage - 01 Aug 2006
Fossilised bone marrow discovered
Research Collaborators:
Dr Stuart Kearns, University of Bristol
Dr Pere Anadón, Consejo Superior de Investigaciones Científicas, Institut de la Ciencies "Jaume Almera", Barcelona
Dr Luis Alcalá, Fundación Conjunto Paleontológico de Teruel-Dinópolis, Teruel (Spain)
Dr Enrique Peñalver-Mollà, Division of Invertebrate Zoology, American Museum of Natural History, New York.