Bridging Boundaries: Inclusion as a Condition
for Successful Societies.
On November 10th, 2005 the ITENIBA (Intergenerational Transmission and Ethno-National Identity in the Border Area) Research project, led by Dr. Jennifer Todd (UCD School of Politics & International Relations) and Dr. Orla Muldoon (School of Psychology, QUB), organised a Public Lecture by Professor Michèle Lamont of Harvard University, Department of Sociology, Director of the European Inequality Network, Multidisciplinary Program in Inequality and Social Policy, Kennedy School of Government, entitled: Bridging Boundaries: Inclusion as a Condition for Successful Societies.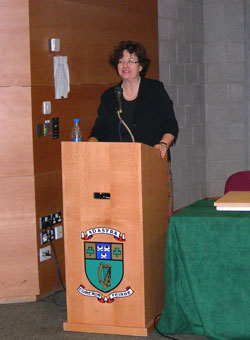 Professor Michèle Lamont
The Lecture was chaired by Dr Maurice Bric, Chairman of the IRCHSS, and introduced by the Principal of the College of Human Sciences, Professor Brigid Laffan - it was part of Professor Lamont's two-day visit to the UCD Geary Institute and the ITENIBA Project (Funded by the EU Programme for Peace and Reconciliation under the HEA North-South Strand 2 Programme).

Professor Lamont's presentation reflected on the nature of successful societies. She argued that successful societies are societies that are more inclusive and that develop weaker social (structural) and symbolic boundaries. In her research, she is concerned with social processes by which more porous group boundaries come to be, and more specifically, with the boundary work produced by members of stigmatized groups to transform the meaning given to their collective identity and to rebut group stereotypes that feed and justify discriminatory behaviour. Drawing on results from current and earlier research on African Americans and North African immigrants to France, Professor Lamont's presentation provided a framework for comparing selected factors that affect the porousness of group boundaries across societies. She also identified a number of unanswered questions in the literature on psychosocial causes of health outcomes concerning the place of culture, and more specifically of cultural schemas and repertoires, in the effects of "context" on health outcome.
The lecture led to a lively exchange between Prof. Lamont and the audience and the discussions continued at a wine reception in the Astra Hall.