Five New Graduate Schools for UCD
Plans are well underway for the launch of five new graduate schools in UCD, one for each College. This initiative will deliver a more structured approach to 4th level training right across the university and will play a critical role in achieving UCD's ambition to become a top research-intensive university. Students will be enrolling in the new graduate schools from September 2006 and a student recruitment campaign will start next semester.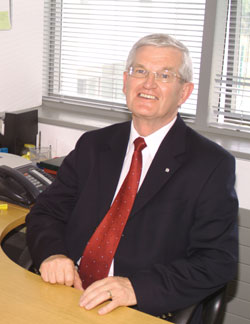 Professor Michael Ryan, Dean Of Doctoral Studies
and Post Doctoral Training
The implementation of the graduate schools is being led by Professor Michael P Ryan, Dean of Doctoral Studies and Post Doctoral training with a team comprising the directors of the graduate schools.
The key objective of the new graduate schools is to establish the UCD PhD as a premier research training programme, making UCD the university of choice for postgraduate research and education. The individual graduate schools will work with each school in their college to coordinate, facilitate and add value to existing and new post-graduate programmes. This will entail a programmatic approach to 4th level training across the university with a series of modular taught elements that build researcher's skills and support their research activity.
The following Directors of Graduate School have been appointed; Professor Gabriel Cooney, College of Arts and Celtic Studies, Dr Julie Berndsen, College of Engineering, Mathematical and Physical Sciences, Professor Ben Tonra, College of Human Sciences, and Professor Alan Baird, College of Life Sciences. Professor John Geary has been appointed Director of Doctoral Studies, College of Business and Law.
Other developments within this initiative will see the improvement of support services and facilities for postgraduate education, including a streamlined application and registration process and a new website providing detailed information and on-line application facilities.
For further information contact doctoralstudies@ucd.ie