Posted: 14 February 2006
Independent Film Making and Sound Design for Film
February 16, 2006 - UCD School of Languages, Literatures & Film will host a technical workshop on Independent Film Making and Sound Design for Film at the William Jefferson Clinton Auditorium on Thursday February 16th from 1.00pm - 4.00pm.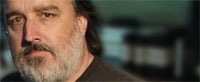 Kelley Baker, Film maker and Sound Designer
The workshop titled "David and Goliath – Independent Film Making in the Age of Corporate Control" will be conducted by Kelley Baker, film maker and film sound designer. Baker has a distinguished track record in the field of motion picture sound design on the American circuit. He has worked both inside and outside the major studio corporate structures. He was supervising sound designer/editor on such multi award winning productions as Good Will Hunting (Dir: Gus Van Sant), Far from Heaven (Dir: Todd Haynes) and My own Private Idaho (Dir: Gus Van Sant). He has also written and directed short and feature productions on the American independent circuit. His independent work been selected for screening at the London, Sydney, Edinburgh, and Sundance Film Festivals.
Admission to the workshop is free and on a first come first served basis.