Posted: 22 February 2006
UCD research team to create beverage for more active later life
A drink that promotes optimum skeletal joint function in older age would storm the global health-related products market currently valued in the region of $475 billion.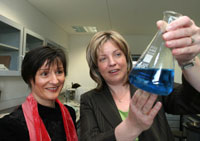 Pictured are Dr. Dolores O'Riordan with Minister for
Agriculture and Food, Mary Coughlan
Dr Dolores O'Riordan and her multidisciplinary research team at UCD plan to develop such a beverage. Their project recently received funding from the Food Institutional Research Measure (FIRM) Programme at UCD School of Agriculture, Food Science and Veterinary Medicine.
The FIRM programme was launched by the Minister for Agriculture and Food, Mary Coughlan with the aim of providing a base of expertise and capabilities in generic technologies in support the Irish Food Industry.
Dr O'Riordan's research team plans to produce a beverage with active anti-inflammatories extracted from organically grown plants in Ireland to combat the degenerative inflammation of skeletal joints caused by years of wear and tear. The plan is to develop a technology capable of extracting the active ingredients from the plants, processing them and incorporating them into beverages. Clinical trials will be used to test the anti-inflammatory potency of the beverages.
The research will present Irish organic growers with opportunities to produce a value added product for an expanding consumer market. As Minister Coughlan pointed out on 4th April 2005, "the decoupling of farm payments establishes a new policy framework in which our farmers will have the freedom to farm in response to market demands. In this more market-oriented scenario, there is real scope for organic production to expand."
Dr O'Riordan research team at UCD includes: Dr Jean Christophe Jacquier, a chemist; Dr James Lyng and Dr Denis Cronin, food scientists; Dr Eileen Gibney, a clinical nutritionist; and Dr John Collier, a botanist.