Irish universities join Intel and IDA on $30 million ageing research project
Posted: 01 February 2007
Today, one out of every ten people is 60 years or older. By 2050, this figure is set to reach one in five. And by 2150, it is expected that one third of the world's population will be 60 years of age and older. New technologies and research must reflect this growing demographic trend.
Technology can help to offer solutions to the many challenges associated with an ageing world population. It has a potentially strong role to play in assisting older people with living independent lives.
UCD is poised to play a significant role in a $30 million investment by Intel and the IDA in the Technology Research for Independent Living Centre (TRIL) announced by the Minister for Enterprise Trade and Employment, Micheál Martin in Dublin on 30 January.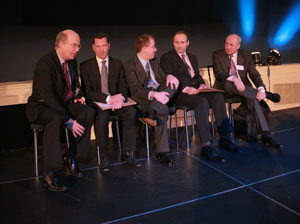 Pictured (left to right): Seán Dorgan, Chief Executive, IDA Ireland; Professor Richard Reilly, UCD School of Electrical, Electronic and Mechanical Engineering and TRIL Centre Director; Eric Dishman, General Manager and Global Director of Intel's Health Research & Innovation Group; Minister for Enterprise, Trade and Employment, Micheál Martin TD; and Jim OHara, General Manager, Intel Ireland
The TRIL Centre will create one of the largest research efforts into the consequences of ageing across the globe. Its research projects will address the physical, cognitive and social consequences of ageing informed by ethnographic research and supported by a shared pool of knowledge and engineering resources in the Technology Platform.
Each research project will incorporate multi-disciplinary team from several Irish universities, Intel's new European Digital Health Group and their US-based colleagues.
"This Centre will be of outstanding strategic value to Ireland in terms of collaborative work between leading academic institutions and Intel, enhancing skills development, knowledge acquisition and making Ireland highly competitive within Europe and the world in this field," said Minister Martin. "Ireland has an active, high-quality research sector in the healthcare domain including bio-engineering and bio-informatics. The TRIL Centre will build on this and position Ireland as a centre of excellence for this type in research in Europe."
The proposal, led by Professor Richard Reilly, coordinated by the UCD School of Electrical, Electronic and Mechanical Engineering over the past 12-months, will engage researchers from three UCD Schools: UCD School of Electrical, Electronic and Mechanical Engineering; UCD School of Psychology; and the UCD School of Physiotherapy and Performance Science.
"The Centre provides for continued quality, significant and relevant research at UCD in the area of neural engineering and multimodal signal processing," said Professor Reilly, TRIL Centre Director and Principal Investigator. "A major focus will be modelling the human attention and sensory/perceptual systems, using high density electrophysiology, together with multimodal fusion for medical diagnostics."
"Besides providing long term fundamental research and core skills in neural engineering, a short-to-medium output of the Centre's activity will be the development of specific biomedical diagnostic applications of real medical and commercial benefit," he continued.
The TRIL Centre will also engage in collaborations with Trinity College Dublin and the National University of Ireland, Galway.
Professor Eamon O'Shea, NUI-Galway will lead a team of ethnographic and anthropological researchers to observe older people in their day to day lives, along with their interactions with carers and the healthcare system.


Dr Stuart Smith, UCD School of Psychology and Professor Rose Anne Kenny, Trinity College Dublin will lead a research team to investigate the underlying causes of postural instability, falls and blackouts


Professor Richard Reilly, UCD School of Electrical, Electronic and Mechanical Engineering and Professor Ian Robertson, Trinity College Dublin will lead a research team to explore the effects of ageing on cognitive function


Professor Brian Lawlor at Trinity College, Dublin will lead a team to develop a deeper understanding of the relationship between social engagement and various indices of physical and mental health


Professor Richard Reilly, UCD School of Electrical, Electronic and Mechanical Engineering will lead a team of biomedical engineers to acquire, collect and interpret physiological and behavioural markers. The emphasis is not just on laboratory research but on the delivery and validation of technical solutions within the home environment
TRIL Centre
Health research and development are key elements for the improvement of the health of the population, not just in the context of the insights and discoveries it provides, but also in ensuring that we have the quickest possible access to new innovations.
In 2006, the Advisory Council for Science, Technology and Innovation emphasised the need for translational research. The TRIL Centre creates great opportunities in this area, as academic researchers work side by side with Intel researchers to apply fundamental science and extensive technical expertise to help older people live independent lives. This combined approach is a unique, cross-skilled collaboration - an example of truly translational research.
A strategic goal of the TRIL Centre is the sharing of the knowledge gained with other researchers globally. In order to minimise duplication, results and resources will be shared on an open-access basis. This will help both develop the fundamental science and help industry bring new equipment and therapeutics to the market. The TRIL Centre website, www.trilcentre.org, will be an important element of this strategy.