Posted: 25 May 2007
Highest honour for three UCD academics
In recognition of their outstanding academic achievements, three UCD academics were awarded membership of the Royal Irish Academy (RIA) on 18 May 2007. This is the highest honour that can be attained by scholars and scientists working in Ireland.
Associate Professor Jennifer Todd, UCD School of Politics & International Relations and IRCHSS Senior Research Fellow; Professor Desmond Higgins Professor of Bioinformatics, UCD Conway Institute, the most cited computer scientist in the world; and Professor Ciaran Regan, UCD School of Biomolecular & Biomedical Science, Professor of Neuropharmacology and Co-ordinator of the Applied Neurotherapeutics Research Group, are among 24 new members recently enrolled into the RIA.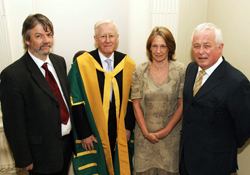 From L-R: Professor Desmond Higgins, Professor James Slevin, President of the Royal Irish Academy, Associate Professor Jennifer Todd and Professor Ciaran Regan
The newest members to the RIA come from a broad range of academic disciplines including: string theory, marine science, political science, human rights law, divinity, bio-informatics, classics, neuropharmacology, spanish, celtic studies and the history of art. The RIA currently has 385 members from throughout Ireland.
Professor Higgins wrote a computer programme called Clustal which is the worldwide standard for sequence alignment. His papers describing Clustal are among the most cited papers by any author in any field. He had over 37,000 citations in January 2007.
Professor Regan's most cited and original works describe molecular and structural changes in nerve cells necessary for the formation of long-term memory - work recognised by the award of many honours including the Royal Irish Academy Medal for Achievement in Pharmacology and Toxicology. His contributions to popular science include Intoxicating Minds, a book on the role of mind-altering drugs in society.
Professor Todd's research includes qualitative approaches to understanding and explaining change in ethno-national identity, ethnic conflict and settlement processes, changing forms of peripheral nationalism in Europe, new perspectives on ethnicity, and the politics of contention and transition. She has published classic works on the Northern Ireland conflict including (with J Ruane) Dynamics of Conflict in Northern Ireland (Cambridge University Press), and key international articles on identity, identity change and ethnicity.
"Throughout its history, the Academy has recognised the scholarship and public contributions of the leading thinkers in Ireland," said Professor James Slevin, President of the Royal Irish Academy. "I am confident that these new Members will continue that tradition of developing Ireland's intellectual culture, which is so vital to our continued success in today's knowledge society."
The 24 new members enrolled in the RIA include:
Sciences -
Ruth Byrne, Trinity College Dublin
James Dolly, Dublin City University
Eugene Freuder, University College Cork
Peter Gregson, Queens University Belfast
Brian Harvey, Royal College of Surgeons in Ireland
Peter Heffernan, Marine Institute, Galway
Desmond Higgins, University College Dublin
Michael Kane, National University of Ireland, Galway
Brian MacCraith, Dublin City University
Ciaran Regan, University College, Dublin
Samson Shatashvili, Trinity College, Dublin
Humanities and social sciences –
John Bartlett, Trinity College Dublin
Sean Cromien, former Secretary General, Department of Finance
Victor Dixon, Trinity College Dublin
Adrian Hardiman, Supreme Court
Dorota Iwaniec, Queens University, Belfast
Philip Lane, Trinity College Dublin
Colm Lennon, National Universtiy of Ireland, Maynooth
Christopher Morash, National University of Ireland, Maynooth
Carmel Naughton, Chairman of the National Gallery's Board of Governors (1996-02)
Ruairí Ó hUiginn, National University of Ireland, Maynooth
Jennifer O'Reilly, University College Cork
William Schabas, National University of Ireland, Galway
Jennifer Todd, University College Dublin
RIA
The Royal Irish Academy is an all-Ireland, independent, academic body that promotes study and excellence in the sciences, humanities, and social sciences. It is the principal learned society in Ireland and has approximately 385 Members elected in recognition of their academic achievement.
Well-known Academy members include: Dr Garret FitzGerald; Nobel Laureate, Seamus Heaney; Mr Dermot Gleeson ; Mr Peter Sutherland; Professor Joe Lee; Professor Ronan Fanning; Mrs Mary Robinson, Professor David McConnell, Professor Richard Kearney; and President Mary McAleese.