Rosalyn Moran a UCD PhD Student takes first prize in NovaUCD's 2005 Entrepreneurship Programme.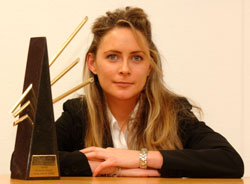 Rosalyn Moran
Vocal Health Screen, founded by UCD PhD student Rosalyn Moran, was, on Friday 18 November, declared the overall winner of the 10th NovaUCD Campus Company Development Programme (CCDP). The CCDP, which is sponsored and supported by BT Ireland and Enterprise Ireland, is a NovaUCD programme established to assist entrepreneurs in establishing new ventures to commercialise the output of UCD research programmes.
Rosalyn Moran is a PhD student working with Dr Richard Reilly, Senior Lecturer and Vice Principal for Research and Innovation at the UCD School of Electrical, Electronic and Mechanical Engineering. She is currently developing a unique remote screening tool for voice diseases for use by patients of Ear Nose and Throat Clinics worldwide. It is designed to replace screening and follow up endoscopy examinations and has the potential to generate significant savings for patient and specialist alike. Detection is carried out using a two second voice sample from a telephone call with results computed automatically and sent to a password protected web page.
The unique aspect of the project has been the development of specialist speech analysis research combined with a Web-based infrastructure based on the emerging telephony interface standard for voice/web communications, VoiceXML. Patients place a call from any telephone and are then guided through an on-line testing structure that acquires several voice samples. From there, analysis algorithms extract features from these samples and input the findings to an automatic classifier that produces a decision on the existence of a vocal pathology with an accuracy of nearly 90%. This information is then available to the Consultant or GP to combine with other patient information to form a diagnosis.
Currently, patients may be waiting up to three months following initial diagnosis in order to be considered for surgery, if required. This wait is due largely to the use of endoscopic exploration techniques that are time consuming and expensive with only specialised voice clinics provide testing. The Vocal Health Screen product requires no capital hardware investment and allows fast and objective measures of a patient's vocal function.
In November 2004, Ms Moran also won Irish Software Association inaugural Student of the Year award for the most commercially viable software.
High-tech ventures are making an increasing contribution to sustaining Irish economic development. It is recognised that many of the most innovative new ventures originate in university research. The NovaUCD CCDP is an important support mechanism in the development of such ventures in UCD. Now in its tenth year the NovaUCD CCDP, which is delivered in association with BT Ireland and Enterprise Ireland, is aimed at supporting company promoters in the establishment and development of new business ventures to commercialise the output of their research and other innovative ideas.
In the last ten years over 115 projects and 160 individuals have completed the NovaUCD CCDP. Previous Programme winners include AV Edge, ChangingWorlds, Optigen Technologies, ProfExcel and BiancaMed. ChangingWorlds, the mobile software company and winner of 1999 Programme is now located in the South County Business Park in Leopardstown, employs almost 70 people and has raised EUR 6 million in venture capital funding. ChangingWorlds has deployed its flagship ClixSmart™ Intelligent Mobile Portal Platform with over twenty mobile network operators worldwide, including the Vodafone and O2 groups.
Two other companies participating in this year's Programme, Protein Partners and SCREED, were short-listed for this year's event and received runner-up awards.
Protein Partners is planning to be a key provider of custom solutions to the biopharmaceutical sector. The promoters of Protein Partners are Dr Bernard Allan and Dr David O'Connell, UCD School of Biological and Environmental Science.
SCREED is planning to support drug discovery and the pre-clinical development of novel therapeutics in the area of neurological disorders. The lead promoters of SCREED are Dr Jennifer Craig and Dr Steven Verhaegen who are currently involved in the Applied Neurotherapeutics Research Group at the UCD Conway Institute of Biomolecular and Biomedical Research.
The next CCDP commences in Spring 2006 and applications are now being invited from prospective entrepreneurs developing new knowledge-intensive ventures. For further information, please contact Caroline Gill, NovaUCD, e-mail: caroline.gill@ucd.ie, tel: (01) 716 3715.
>> More News and Events
<< Back to Home