Posted: 27 October 2006
The Lion and the Unicorn – Gladstone vs Disraeli
In an era when Britain practically ruled the world, two men locked horns for almost five decades, each aiming oratorical barbs to unhinge the other as they battled for the ultimate prize: First Lord and Prime Minister of Great Britain and leader of a global superpower.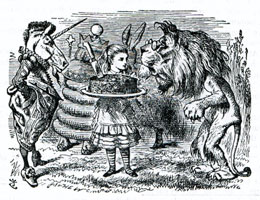 'The Lion and the Unicorn' by Sir John Tenniel, from Through the Looking-Glass.
The clash between William Gladstone and Benjamin Disraeli was about more than ideology and political expediency: it was deeply personal. This battle between these titans of the Victorian Era is brilliantly told in Dr Richard Aldous's most recent book "The Lion and the Unicorn, Gladstone vs Disraeli", published by Hutchinson.
Richard Aldous, Head of the UCD School of History and Archives, is a writer of extraordinary talent and in this book demonstrates an ability to translate and interpret history for the lay reader, fellow historians and students alike.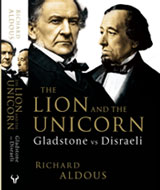 The Lion and the Unicorn- Gladstone v Disraeli
Disraeli – a 3rd generation Jewish immigrant with an extravagant lifestyle succeeded in becoming the favourite of the tempremental Queen Victoria. Gladstone meanwhile – a product of English capitalism, Oxford and fervent Anglo-Catholicism - earned only her ire, but ultimately appealed over the Queen's head direct to voters as "The People's William".
Aldous's book draws on extensive research on the two men and ties together their personal lives and political actions in a "must read" biography that explains the consequences of their bitter relationship.

Further information: http://www.ucd.ie/historyarchives/staff/aldous.htm

>> More News and Events
<< Back to Home