University College Dublin takes home Great Agri-food Debate trophy for fourth time
Posted 3 March, 2020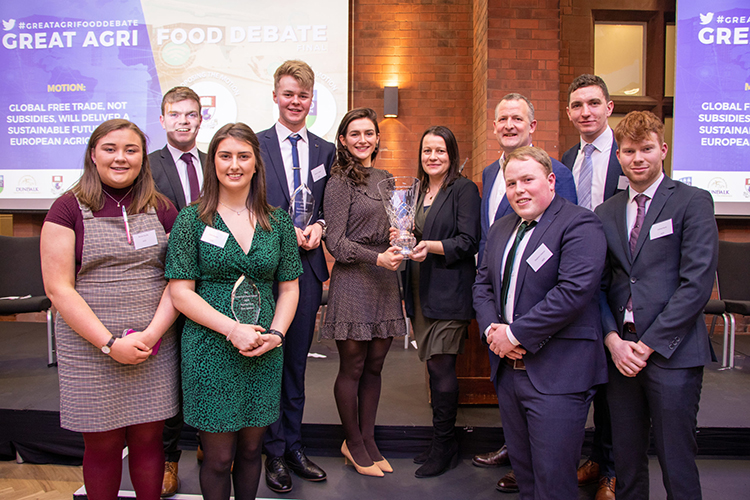 The winning UCD team from UCD with Niall Browne, CEO, Dawn Meats, and Nina Prichard, head of sustainable and ethical sourcing, McDonald's UK & Ireland
University College Dublin has claimed the Great Agri-food Debate title for a fourth time after it was declared overall winner at this year's contest in Belfast.
Held for the first time in Northern Ireland, the two-day event saw a team from UCD match wits with last year's winners Waterford Institute of Technology (WIT) over farmer subsidies.
Topics at the 5th annual Great Agri-Food Debate also included the environmental impact of veganism, free trade, subsidies and gender inequality in the agri-food industry.
The motion for the last round of the competition was "Global free trade, not subsidies, will deliver a sustainable future for European agriculture".
The UCD team, captained by Una Sinnott, opposed the motion by arguing for the merits of financially supporting farmers to produce food in an environmentally sustainable way.
Ms Sinnott also said that subsidies were critical for maintaining the family farm model of European and Irish farm businesses, which underpins rural society.
"We are the custodians of our land, if we get rid of subsidies, we will be the destroyers of our land," she said.
Further, the UCD team cautioned of the impact of global free trade on the fabric of rural communities, proposing that farmers were the natural custodians of the land, a role they couldn't fulfil without subsidies.
The winning UCD team for the 2020 Great Agri-Food Debate were:
Una Sinnott, Captain - Food & Agribusiness Management Student, Year 4
Owen Cashman - Animal and Crop Production Student, Year 4
Thomas Meade - Food & Agribusiness Management Student, Year 4
Simon Lanigan - Animal Science Student, Year 2.
Stephen Claxton - Animal Science Student, Year 2
Ciara Byers - Agricultural Science Student, Year 1.
Dathal Kent, Student observer & supporting member - Food & Agribusiness Management, Year 2
Roisin Scully, Student observer & supporting member - Agricultural Science, Year 1
WE WON !!!!! @ucdagfood #GreatAgriFoodDebate winners 2020. A fantastic competition and a well debated final with @waterfordit. Congratulations to everyone involved on a great event @dawnmeatsgroup @Bordbia @UnaSinnott @Owen_Cashman @SimonLanigan pic.twitter.com/VTqfSQIUIs

— UCD School Ag & Food (@ucdagfood) February 27, 2020
Six third-level colleges took part in the all-island competition: Queen's University Belfast, who hosted the event, University of Limerick, UCD, College of Agriculture, Food and Rural Enterprise (CAFRE), Dundalk Institute of Technology and Waterford Institute of Technology.
Aside from the winners of each topic, awards were also made to the best speaker for each debate with two spot prizes for the funniest quotes.
WIT's Martin Beausang was the winner of the Best Speaker Prize in the final debate, while Ciara Byers (UCD) and Roisin O'Donnell (WIT) were awarded Best Speaker in their respective semi-final debates.
The competition is a joint initiative between Dawn Meats and McDonald's, and this year's judging panel consisted of Nina Prichard from McDonald's, German Ambassador to Ireland HE Mrs Deike Potzel, Food Safety Authority of Ireland CEO Pamela Byrne, and Dawn Meats and Dunbia CEO Niall Browne.
"Each year we try to present students with motions that are central to our industry, and that allow their skills in crafting, presenting and defending their arguments to shine," said Niall Browne, CEO Dawn Meats.
"Every year we are bowled over by the technical knowledge of the teams and their confidence and assuredness in presenting their views to us.
"As always, my congratulations to the winning team, and my thanks to our partners McDonald's and the judges, moderators and most especially the participants for making this event such an on-going success."
By: David Kearns, Digital Journalist / Media Officer, UCD University Relations