Research impact
Social impact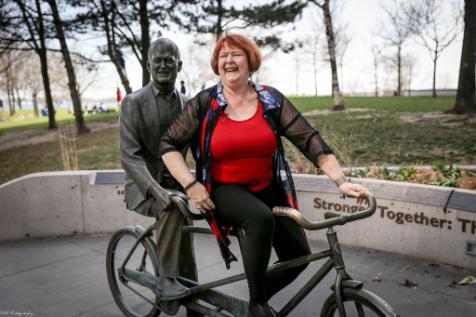 Through a wide range of activities across traditional and social media, researchers at the UCD DCRC have opened discussion around obesity, its causes, and the stigma faced by people living with obesity. In turn, this discussion has altered people's perceptions of obesity as a disease, and the options available to treat it.
For example, work from the DCRC has been highlighted on the RTE website, and in 2017, Professor le Roux appeared on RTE's Claire Byrne Live to discuss "Obesity – a first world problem or a serious disease?". In 2018, the DCRC held events to promote the patient voice and to discuss obesity stigma with patients and healthcare professionals. Subsequently, members of the Centre created a website and social media platforms along the idea "its not your fault".
To date, they have attracted 647 followers on twitter, 753 followers on Instagram, and more than 200 visitors to the website per month. The phrase "it's not your fault" had an immediate impact on people living with obesity, enabling them to ask for help. This contributed to the number of referrals to obesity services at St Vincent's Healthcare Group increasing 3-fold (see health impacts below).
Economic and health impact
Obesity stigma has a significant cost to the Irish economy, because more than 1 million people living with obesity in Ireland are not currently requesting treatment. However, obesity and some of its complications such type 2 diabetes and chronic kidney disease can be put in remission by effective treatment — rather than consuming 10-15% of the entire HSE budget.
This has been shown to be dominant in health economic models, meaning that after spending €10,000 on an obesity treatment such as bariatric surgery, the HSE makes all that money back within 2-5 years. Despite these data being available, Ireland has the lowest rates of obesity treatment in the EU. The DCRC was instrumental in convincing HIQA to undertake a formal health technology assessment for obesity treatments. This will allow more obesity treatment centres to be established in secondary and primary care.
As described in the previous section, referrals to obesity services at St Vincent's Healthcare Group increased 3-fold, and obesity treatments resumed in hospitals despite COVID-19. This is because the benefit of treatments for vulnerable patients was shown as a direct result of research at the DCRC. This means more than 200 patients were able to be treated who would otherwise have had their treatment postponed. Thus, the research has had an obvious health impact on those who have benefited from these services, and their families.
Academic impact
UCD DCRC members are recognised as key opinion leaders. Because of this, they co-wrote a joint international consensus statement to end the stigma of obesity that was published in Nature Medicine in March 2020. This was signed by the Irish Society for Clinical Nutrition and Metabolism as well as St Vincent's Private Hospital.
Members of the DCRC participated in a wide range of education efforts to address the stigma of obesity by explaining its scientific basis. This contributed to raising the profile of the Centre and securing €16 million of EU funding together with €3 million of additional exchequer funding.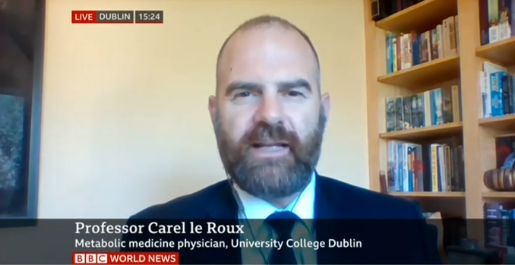 DCRC members also helped arrange an international conference to understand the barriers to tackling obesity, and to propose solutions. The COVID-19 epidemic affected obesity treatment for two main reasons: because people with obesity were not recognised as a vulnerable group, and because treatments for obesity were deprioritised and postponed. The science produced by the UCD DCRC – together with several media campaigns – helped reshape the public narrative, resulting in obesity research being more prominent now than ever before and obesity treatments restarting as a priority in hospitals associated with UCD.
In addition, the DCRC contributed to a Diabetes Surgery Summit consensus statement, providing international guidelines to remove treatment bias and prioritise patients with obesity during and after the COVID-19 pandemic. The statement was published in the Lancet Diabetes & Endocrinology in 2020.