Summary
The Mapping Green Dublin research project has brought together a range of stakeholders – including academics, artists, local residents, and place-based community organisations – to ensure that strategies for developing urban environments meet the needs of local communities.
The team and collaborators worked to identify greenspace deficits and develop a "community greening strategy". Importantly, this collaboration has empowered various stakeholders (through access to an evidence base and new skills) to proactively engage on a more equal basis with policymakers and practitioners. This has directly facilitated local community action, exemplified by the development of the award-winning Turvey Park. The D8 Green Bridge Forum, which arose from the research, has successfully argued for the inclusion of "micro green areas" as part of Dublin City's proposed Green Infrastructure Strategy, and continues to meet regularly.
These collaborations are building new relationships of trust between local communities and Dublin City Council, and ensuring that our urban environments contribute to the health, wellbeing and resilience of those who live in them.
Research description
Well-designed and maintained green urban spaces play a crucial role in community health, wellbeing and resilience. Evidence shows that access to nature reduces stress, improves sleep, promotes social interaction, and can have a positive effect on mental wellbeing. Greenspaces also protect our physical health by absorbing pollutants, and they help maintain biodiversity. Such spaces are a key component of city "green infrastructure" strategies.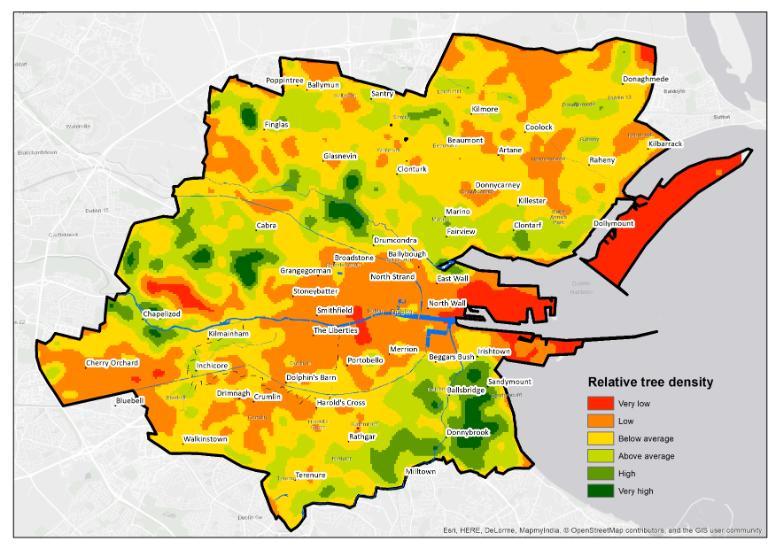 However, in a developer-led planning system, greening or green infrastructure strategies are often an after-thought, and local communities are rarely invited to co-create plans that directly affect them. Often, they are simply "consulted" when decisions have already been made. By bringing together new combinations of stakeholders – including academics, artists and place-based community organisations – communities can gain access to science and become empowered to engage with decision-makers from the beginning, ensuring development strategies respond to community needs.
Mapping Green Dublin (MGD) was a collaborative action research project led by UCD's School of Geography, in collaboration with arts organisation Common Ground, artist Seoidín O'Sullivan and event facilitators Connect the Dots. It was based in Dublin 8 from 2019 to 2021 and funded by the Environmental Protection Agency. The team worked with local residents and other stakeholders to identify their greening needs and co-create a community greening strategy.
The research began with a series of focus groups to map the trees and greenspaces across Dublin City, with a particular focus on Dublin 8. This identified greenspace assets, deficits and potential greening needs. The team then entered a co-creation phase, working with different stakeholders – through focus groups, a community launch event, an urban prototyping workshop, and a new neighbourhood greening forum – to develop ideas for greening projects and actions. In the final phase, the team delivered these ideas in a community greening strategy, engaged with key policymakers, helped implement some small greening projects in the area, and coordinated a community greening forum. These interventions respond to neighbourhood needs, have high social and cultural value within the community, and maximise opportunities for urban wellbeing.
The community impact and value of this project will undoubtedly live on and continue to generate positive momentum for people, their wellbeing, place and the urban environment as recommendations crystallise into more action and other offshoot projects develop organically over time.

— Brian Beckett, Director of Inland Fisheries Ireland