Research impact
The research and resulting policy brief, produced for An Fóram Uisce, has the potential for political, educational, environmental and social impact.

Political impact
Dr Cotterill has taken several steps to ensure the policy recommendations arising from her research will be implemented. The policy brief has been circulated by An Fóram Uisce to its members, presented to several of their committees, and highlighted in Waterwise's monthly newsletter. She is also delivering multi-stakeholder workshops to discuss opportunities and challenges for implementing the report's recommendations. These are attended by representatives from Irish Water, the Irish Green Building Council, the National Federation of Group Water Schemes, Building Standards, and the Department for Housing, Local Government and Heritage (amongst others).
A report of the first workshop, which took place in June 2022, is available on An Fóram Uisce's website. During this event, attendees considered three policy recommendations: a mandatory, Government-led water labelling scheme; a smart metering trial; and revisions to building regulations to specify total water use per building and maximum ratings for fixtures and fittings.
Dr Cotterill continues to work with An Fóram Uisce to develop a Strategy on Water Conservation, informed by her research and legislative recommendations, to present to policymakers within Government (e.g. in the Department for Housing, Local Government and Heritage).

Educational impact
One of Dr Cotterill's recommendations was to establish a national water conservation team, likely within An Fóram Uisce, which would contribute to training, knowledge transfer and capacity building within and across agencies and partners responsible for water. A step toward achieving this was taken in the first workshop, which enabled stakeholders to engage with the issue of water conservation in a more holistic, systems-thinking way.
A second workshop, in March 2023, will focus on the educational recommendations made in the policy brief, such as developing an approach to create a more comprehensive understanding of water processes and systems within the national curriculum. Attendees will work together to develop a programme of education to address systemic barriers in understanding about water.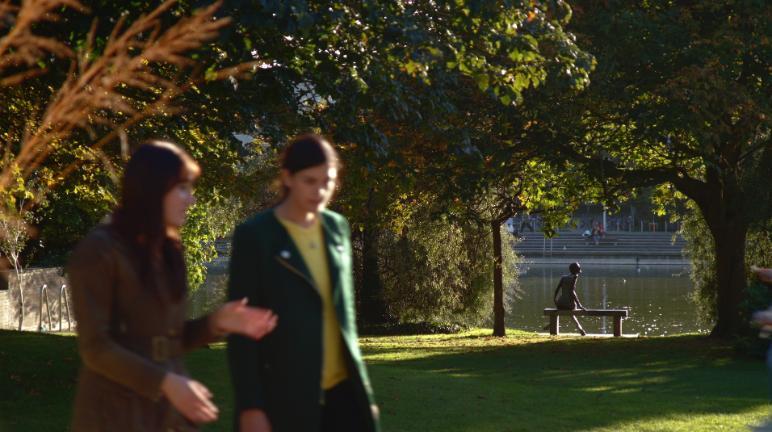 Having published her report, Dr Cotterill was invited to speak to students and teachers at Bridgetown College in Wexford, as part of the school's campaign to highlight issues around water use, waste and quality. The teacher who organised the event said: "all agree that the talk was very interesting, and students captivated. Hopefully this will spur on some action, based on your recommended resources. It was great to get your input into the new school design too. We will have to lobby the principal and department architects too!"

Social impact
Dr Cotterill has highlighted her research findings in a variety of media pieces, such as a national television documentary (Eco Eye, RTÉ 1, each episode of which is watched by around half a million people) and a weekly newspaper (the Farmer's Journal, one of the top selling national newspapers in Ireland, reaching more than 370,000 readers every week). In these interviews, she shared her findings and communicated simple, easy-to-implement suggestions for the public to adopt (such as the use of low-flow shower and tap fixtures, or rainwater harvesting). This demonstrates engagement with the public to contribute to widespread understanding of how much water is available and how it's influenced by people's behaviour.

Environmental impact
Environmental impact will be realised in the longer-term. Once implemented, the recommendations arising from Dr Cotterill's research will yield a range of environmental benefits. They will help protect natural resources, contribute to net-zero carbon targets, and mitigate sewer capacity issues (which currently hinder delivery of the Government's housing development targets).