Research impact

Social and educational impact
Dr Curran has a significant portfolio of outreach work, raising awareness of fatbergs and how people can help tackle them. For example, he explains how to cook food and clean dishes in an environmentally friendly way, and the importance of only flushing the 3 Ps down the toilet (paper, pee and poo). These actions can reduce sewer overflows, traffic diversion, water pollution, and fish kills.
This outreach consists of many interviews in national and international media (including the Irish Times, RTÉ, Newstalk, BBC World Service, the Guardian, USA Today, and National Geographic) reaching a significant audience, likely in the tens of millions.
Having received positive feedback about his messages (and the funny way he presents the 3 Ps), Dr Curran volunteered to perform stand-up comedy about his research in Bright Club (a night of comedy by researchers), in Whelan's, Dublin, in 2019. A recording of the event, "Dr Fatberg and the 3 Ps", has had over 2,600 views on YouTube to date, the 6th most over 200 Bright Club Ireland videos.
Subsequently, industry partner Michael O'Dwyer invited Dr Curran to feature as one of the main characters, "Dr Fatberg", in his company's comic book "Attack of the Fatbergs". He also appears in the 2021 sequel "Return of the Fatbergs!". Both comics were illustrated by the US creator of the "Fatberg" character, Nathan T Wright, who has since worked with Dr Curran on two more multilingual UCD comics: "Finding Beo", and the EPA-award winning "There's Something About Ammonia".
The outputs from our research collaboration with Tom on fats, oils and grease made a significant contribution to knowledge in a peer-reviewed journal paper. The subsequent dissemination of the key messages through humour in comics was very well received by industry.

— Michael O'Dwyer, CEO, SwiftComply
More recently, Dr Curran has promoted a proposed LEGO set about a fatberg, helping it receive the 10,000 public votes necessary to be reviewed for production by LEGO Group. If successful, it will further raise awareness of this largely hidden issue, contributing to the behaviour change needed to tackle fatbergs. Within the university, Dr Curran is also raising awareness with around 100 UCD students every year in the modules he teaches.

Economic and environmental impact
Although the economic impact of Dr Curran's awareness-raising efforts has not been directly assessed, it is clear that preventing fatbergs has significant economic impact, saving countries millions in tackling blockages and dealing with flooding, property damage and environmental harm. Combined, Dr Curran's research and outreach activities are reducing the potential environmental and health impacts of fatbergs.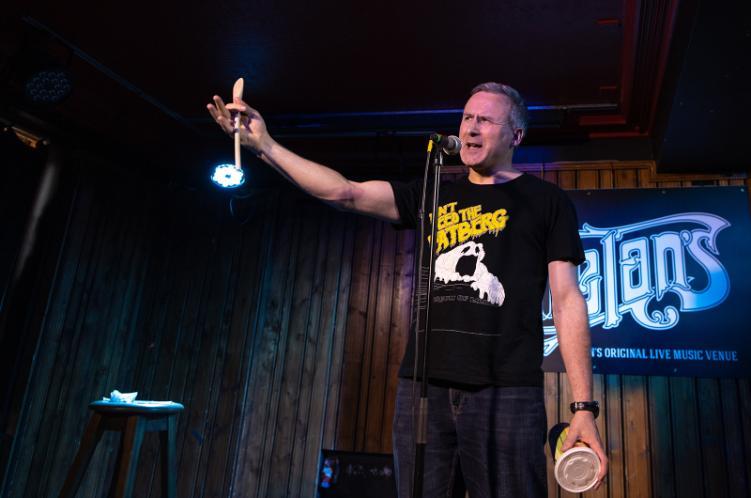 Dr Curran's research has shown that fatbergs have been reduced by about 95% in Dublin city since the FOG control programme was introduced in 2008, wherein commercial food service establishments are inspected to ensure they have appropriate grease traps installed and appropriate waste management procedures.

Political impact
In 2016, Dr Curran was invited to meetings of the UK's FOGWise Steering Group, made of stakeholders from industry, academia and water utilities. Dr Curran gave feedback on the draft version of an upcoming publication from the group – "Foodservice – Fat, Oil and Grease Management Guide" – which gives people involved in FOG management roles knowledge about the importance of disposing of FOG responsibly, along with practical ways to do so.
The 2017 journal paper was recently mentioned more than a dozen times in an EU policy report exploring potential new sources of biofuel. The research is helping to pave the way for FOG to be repurposed as a source of energy.
Dr Curran met Philip Dunne MP (Chairman of UK Parliament Environmental Audit Committee) at the 2021 European FOG Summit. In his opening speech, Mr Dunne specifically remarked on the awareness-raising impact of Dr Curran's comic character "Dr Fatberg".

Technological and academic impact
Food outlets and water utilities can work together to use grease trap equipment and sensors to prevent and detect blockages. Dr Curran previously collaborated with a world-renowned expert, Professor Joel Ducoste, to develop an advance warning system to detect sewer blockages using low-cost, internet-connected sensors.
The main journal paper arising from this work has had significant impact on the academic FOG community. With more than 100 citations it has a field-weighted citation impact of 2.55, meaning it has been cited by other researchers more than twice as much as similar articles. Dr Curran has also participated in several international conferences, as listed in the References section below. He was recently interviewed by the international authors of two books about fatbergs and sewers – "Gory Details: Adventures From the Dark Side of Science" and "Pipe dreams: The urgent global quest to transform the toilet".