Research impact
Economic impact
Dr Zhang's research addresses the gap in microfluidic manufacturing in Ireland's medical device ecosystem. The microfluidics industry is predicted by Markets and Markets to have a market value of $58.8 billion by 2026. Ireland has significant microfluidic R&D activity, including DCU's Fraunhofer Project Centre, the University of Limerick's Stokes Institute, and several leading companies, including Cellix, Biosensia, PolyPico, Radisens, Novus Diagnostics and Remedybio.
However, these companies all focus on applications of existing microfluidic devices: there is an acute lack of microfluidic manufacturing expertise in Ireland. In particular, no company in Ireland has an entire process chain to move from prototyping to mass production of customised microfluidic devices. The toolkit established by Dr Zhang's team at UCD fills this gap. His team engage with companies on the various steps in the process of developing microfluidic chips for specific purposes, reducing the risk of scale-up failure, saving costs and accelerating product development. Currently, the team has worked with eight partners from industry and research organisation, and developed more than eight microfluidic chips for diagnostics or drug synthesis.

Health impact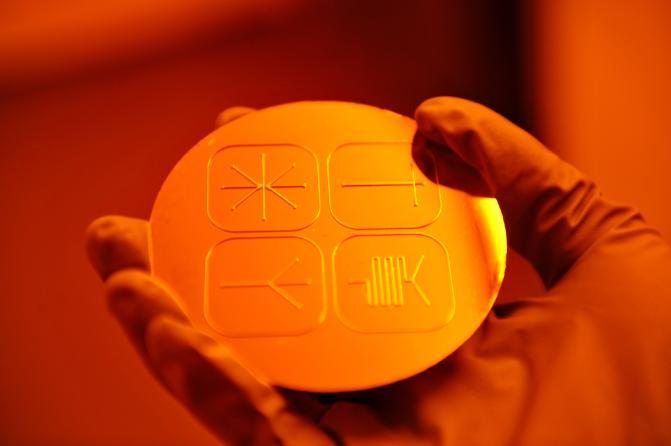 Diagnostic devices that reply on microfluidic chips improve patient outcomes and save lives. Dr Zhang's team are helping bring these devices to the market, and hence to patients, much faster than would otherwise be the case, therefore contributing to public health.
To give a specific example, Dr Zhang as his colleagues have been working with an Irish start-up, Novus Diagnostics, to develop microfluidic devices that diagnose sepsis, the body's life-threatening immune response to infection, which can cause organ failure within hours. Developing diagnostics like these usually takes two to three years, with a high risk of failure. Dr Zhang's team could reduce this to less than one year. Patients will thus have access to this technology much quicker.
They are also working on microfluidic devices to develop nanoparticles for gene therapy. This will make it faster to develop new therapies and will accelerate the treatment of many genetic diseases, like the skin disorder epidermolysis bullosa, as well as the development of mRNA vaccines.

Academic and technological impact
Precision moulding is used to mass manufacture low-cost plastic microfluidics. These moulds are critical for forming the necessary tiny channels. Dr Zhang has developed unique self-lubricating moulds that increase mould life 5-fold and reduce moulding defects, thereby increasing efficiency and reducing waste. This new technology is patented and licenced by a UCD start-up.
Dr Zhang is recognised internationally as a leader in this area, as evidenced by having twice chaired the international conference on Polymer Replication at Nanoscale, and having been elected as a Board Member of the Microfluidics Association, working on several standards and white papers for microfluidic devices, which will help the industry as whole to make chips better and faster. Dr Zhang is Associate Editor of the open access journal "Frontiers in Lab on a Chip Technologies". Three PhD students from his team received Best Paper Awards at leading conferences on the novel development of micro mould technology.