Summary
Based on research conducted in UCD since 2020, Dr Gaynor and colleagues have developed an understanding of the psychological impacts of COVID-19. They translated these findings into a free-to-download workbook for the general public, which gives evidence-based advice on how to cope with the pandemic.
It has been promoted through a widespread campaign across national radio, print media, and social media. The team have also shared their findings and advice through webinars to government, mental health charities, and the general public. Together, this has helped thousands of people deal with the psychological challenges of COVID-19. In addition, clinicians have taken up this evidence-based advice to provide mental health services to patients across the country.
Research description
Between September 2020 and May 2021, Dr Gaynor and colleagues conducted three research studies to better understand the psychological impact that COVID-19 is having on people's lives, and how these impacts might be addressed:
A psychological model looking at behavioural factors in COVID-19 related distress. This survey-based study looked at how much distress related to COVID-19 could be explained by factors such as the type of thoughts people had, how much they worried, and whether they exerted a lot of mental effort thinking about COVID-19.
A qualitative study looking at people's beliefs about the personal impact of COVID-19. This study looked at what people's beliefs were about themselves, the world, and other people in relation to COVID-19 (in their own words).
A pilot study into psychological group therapy for COVID-19 related distress. This study looked at the effectiveness of a new group therapy program run via Zoom, which supported people experiencing significant distress related to COVID-19 using the psychological model discussed in Study 1.
The findings of these research studies highlight four important things:
Traumatic thoughts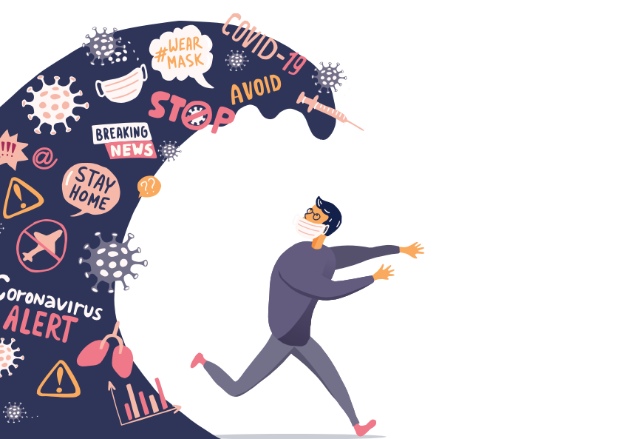 Traumatic thoughts are a common response to living through a pandemic. These results indicate that we can understand COVID-19 as a so-called "Continuous Traumatic Stressor", like living in a police state, or during a period of terrorism, or in an apartheid regime. Although we might never experience or witness a specific life-threatening situation, we can still live under a constant sense of threat. These findings suggest that traumatic thoughts are a key target for reducing public distress during the pandemic.
Specific thoughts
The team also identified specific thoughts that people had about themselves, the world, and others. These gave a rich picture of the range of experiences people had through the pandemic, such as:
"I am in suspended animation waiting for my life to have some normality in it."
"The world is still beautiful."
"The world is going to be okay".
Depressed and non-depressed groups within the sample had the same amount of negative thoughts. Importantly, the non-depressed group was able to balance these with thoughts about gratitude and empathy, indicating that targeting public health messaging towards positive psychology and compassion may be beneficial in protecting people from distress.
CBT
Formal cognitive behavioural therapy (CBT) treatments are appropriate and likely to be helpful in a pandemic situation. This means that clinicians can use existing evidence for mental health treatments in the context of COVID-19.
Remote group therapy
The psychological model developed by Dr Gaynor and his team was translated into practical, understandable therapeutic tools which participants found to be accessible, enjoyable, and useful.