Summary
The Open Heart City research project inspired a new future for the former Magdalene Laundry on Sean McDermott Street in Dublin. Conducted over three years, the research involved consulting with institutional abuse survivors, local communities, local Government and national Government. It resulted in plans showing how the location could become a site of national conscience incorporating a museum and archive.
Informed by this research, the Government announced in March 2022 that the site will become a National Centre of Research and Remembrance, comprised of a museum and exhibition space, an archive of records related to institutional trauma, and a place for reflection and remembrance, alongside social housing and community facilities, and an educational and early-learning facility. Crucially, the museum will teach current and future generations about what happened in Ireland's institutions, contributing to what survivors have repeatedly expressed: that memorialisation should educate the public with a view to preventing similar abuses in the future.
Research description
In 2018, Dublin City Councillors backed a motion not to sell the former Magdalene Laundry site on Sean McDermott Street, Dublin, to a budget hotel chain. This was the last Magdalene Laundry to close in Ireland, in 1996. Given Ireland's legacy of institutional abuse trauma, and the need for justice for survivors, the question of what should be done with the site was critical.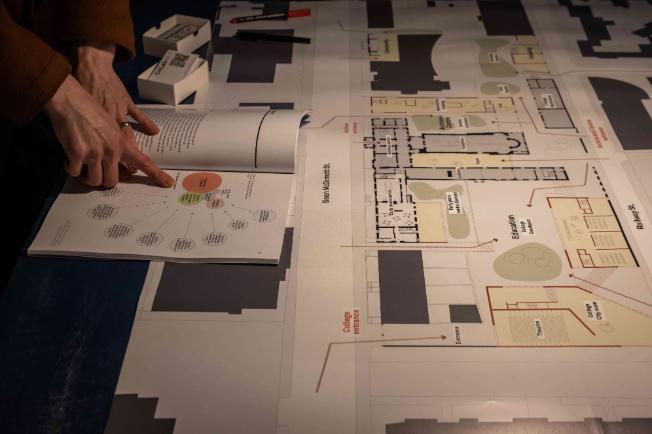 The Open Heart City (OHC) research project is a collaboration between the Open Heart City Collective (a group of academics led by Professor Campbell and Professor O'Donnell) and CoLab 81-7 (a group of three emerging architecture offices). Together, over the course of three years, they took an academic approach to the problem of what to do with the former Magdalene Laundry site, using design research methods (including site investigations, feasibility studies and experiments), and soliciting the views of as many diverse voices as possible, including institutional abuse survivors, members of the local community, national Government, local government and other academics.
The multi-disciplinary members of the Open Heart City Collective informed teaching in two Masters of Architecture (M.Arch) research studios: one at UCD, and one at Queen's University Belfast. The resulting M.Arch research, as described above, is shared on the Open Heart City website, as well as on Twitter and Instagram.
Professor O'Donnell facilitated consultation between CoLab 81-7and stakeholders to explore the idea of creating of a permanent memorial (or "site of conscience") at the former Magdalene Laundry. CoLab 81-7 exhibited research on site, held consultation workshops and created a "Vision Document" which outlines valid possible directions for future development, proposing a museum and an archive for the site, alongside housing and educational facilities.
M.Arch students at UCD and QUB have also worked to research different factors that will influence the proposed memorial, such as cost, feasibility, urban strategy, historical context, existing fabric and life-cycle reuse.
Fundamentally, this research made it possible to deliver a radically new future for the former laundry as a site of national conscience.
The work of OHC is impressive and was of interest to Government ministers and officials in determining the redevelopment of the former Magdalene site.

— Martin Fraser, Secretary General, Taoiseach's Department.