Celebrating Universal Children's Day, Minister for Children, Equality, Disability, Integration and Youth, Roderic O'Gorman, TD, joined the COVISION team in unveiling the project's outcomes and achievements since it began during the Covid-19 pandemic.
Funded by the Health Research Board and the Irish Research Council, COVISION explored the creative and innovative ways children responded to changes during the pandemic. It looked at how children's actions may affect the ability of others in their community to adjust to changes, allowing children to contribute to building community resilience during the pandemic and beyond.
Minister Roderic O'Gorman said: "I'm delighted to take part in this event, amplifying children's voices, creativity and resilience during Covid-19. Research plays an important role in decision-making across Government, we want to ensure that all of our policies are informed by evidence. Information on the experiences of children and young people during and after the pandemic is crucial in informing appropriate policy responses to support them. One of the objectives of the Government's research strategy, Impact 2030, is strengthening the citizen's voice in the research process. COVISION is a great example of citizen-led research which can inform the policy-making process and is impact-driven."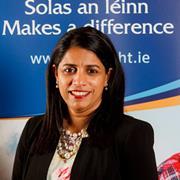 Project lead Associate Professor Suja Somanadhan, UCD School of Nursing, Midwifery and Health Systems (right), said: "We have heard and listened to children and young people through creative pieces submitted and co-design workshops. For example, children and young people from Mexico, India, and Brazil spoke about increasing child labour due to school closures and the challenges of food shortages they faced during the COVID-19 pandemic. Children and young people from Taiwan highlighted overuse of the eye and strain due to online learning. All the children and young people across the globe, including children from Ireland, highlighted the importance of being part of the decision-making process and their involvement in policy and practice as allies."
UCD Vice-President for Research, Innovation and Impact, Professor Orla Feely said: "COVISION is a groundbreaking project that has given a central position to children's voices and experience during a time of unprecedented challenges. Dr Somanadhan and her collaborators have created a model for truly engaged research, which genuinely involves and learns from its beneficiaries, to deliver lasting impact in children's lives and in wider society."
Children's Ombudsman, Dr Nial Muldoon said: "It is wonderful to be included in the celebration of children leading global research called COVISION it shows everyone that children are not victims of pandemic but citizens who are active in their own lives and families, communities."
Through COVISION, researchers learned the things that helped young people most were sports, arts, helplines, social media, mindfulness, friends and pets. The project also created a secure app through which children could share their artworks and other creative outputs, as well as their thoughts about them. Children from six continents shared their creativity and ideas with COVISION.
Children's Research Advisory Groups (CRAGs) were involved in every stage of the project, including the final showcase and dissemination of project outputs and outcomes.
CRAG member Aaryan (14, from Ireland) said: "I think it's a good thing to be a part of COVISION. It's nice to know that I'm contributing to such a large-scale project. Joining CRAG can be really beneficial, not just for the people you're helping but also for yourself. It helps your brainstorming, problem-solving and allows you to practice presenting your ideas to others."
The COVISION project was conducted between academics and their young collaborators in 10 countries including, Ireland, UK, Canada, India, New Zealand, Australia, Brazil, Mexico and Taiwan and US.
COVISION partners include: University College Dublin (UCD); Fluminense Federal University (UFF), Brazil; University of Edinburgh, UK; University of Maryland, US; University of Melbourne, Australia; Ming Chuan University, Taiwan; Office of the Ombudsman for Children, Ireland; UCD Innovation Academy; Monash University, Australia; Children's Health Ireland; University of Auckland, New Zealand; University of Windsor, Canada; the International Collaboration for Participatory Health Research (ICPHR).
Learn more about COVISION https://www.covision.ie/.
Minister for Children Roderic O'Gorman, TD, with the COVISION co-design team, project lead Dr Suja Somanadhan and Dr Niall Muldoon, Ombudsman for Children.