Medication safety, long term care residents with dementia, and cancer patients are just some of the research areas and people that will benefit from the HRB's Knowledge Translation Awards (KTA) 2022 scheme.
This is the fifth round of these awards which began in 2012 as the HRB's Knowledge Exchange and Dissemination scheme. Having since evolved into the Knowledge Translation Awards (KTAs), the scheme allows HRB grant holders to apply for additional funding to what is normally allocated to every HRB grant for communication and dissemination activities.
Dr Mairéad O'Driscoll, Chief Executive at the HRB said: "The Knowledge Translation Awards view each stage in the research process as an opportunity for collaboration with knowledge users, which include healthcare practitioners, policy makers and the public. These awards give the HRB-funded research community extra opportunities to communicate the impact and value of their work."
While many awards use traditional knowledge translation methods like events, websites and printed materials, some use more creative approaches such as theatre and a World Café methodology. For example, one award involves art therapy sessions that, in a departure from the norm, encourage the clinical teams to attend, along with patients and their families and caregivers.
Speaking about this art therapy award, Dr Aoife Cahill, Programme Manager at the HRB, said: "The University College Cork Cancer Trials Group (UCC CTG) will offer art therapy sessions to cancer patients, their families, and, in a break with previous conventions, the clinical trials teams. By including each of these parties, the sessions will help to communicate and exchange important, non-clinical knowledge that aims to support everyone involved in a cancer patient's journey and address any fears patients may have about participating in clinical trials. The resulting artworks will be exhibited across UCC CTG sites, at a UCC CTG retreat and via an online gallery."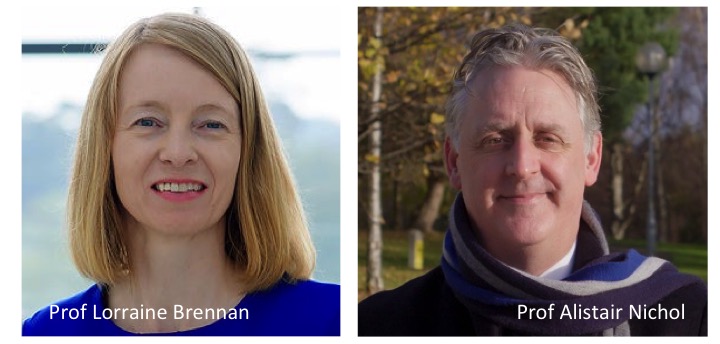 UCD awadrees were:
Professor Lorraine Brennan, UCD School of Agriculture and Food Science, UCD Institute of Food and Health and UCD Conway Institute.
Co-creation of a cookery book and pathways to making changes in diet to include more fruit and vegetables.
Personalized nutrition is based on the idea that individualizing nutritional advice will be more effective than more generic approaches. Studies are showing successful outcomes by applying such methods. Professor Brennan's group has been involved in several human intervention studies where dietary advice is given to participants based on their individual needs. However, in their most recent intervention some participants found it difficult to come up with cooking ideas for certain aspects of the dietary advice given and highlighted a need for novel approaches to cookbooks. A study by Bord Bia revealed that Irish people are still only eating 3.9 portions of fruit and vegetables a day on average, less than the guidelines of up to 7 servings per day. One of the barriers to eating fresh fruit and vegetables identified was a lack of confidence in cooking and preparing food. So the proposed new cookery book and a series of cooking workshops with Airfield Estate will empower people to make dietary changes with a focus on vegetables. Furthermore, the cookery book will be co-created with public participation. It will contain seasonal recipes (5 per season), identifying which vegetables are in season, and tips such as what proteins work best.
These interventons will empower the participants and their wider families to eat healthier and make long lasting changes.
Professor Alistair Nichol, UCD School of Medicine, St Vincent's University Hospital and Irish Critical Care-Clinical Trials Network.
Pandemic Resilience- translating knowledge for improved future pandemic preparedness.
Since 2015, the HRB-Irish Critical Care-Clinical Trials Network (ICC-CNT) has established a research programme in preparation for pandemics. As part of this, Professor Nichol and his team assessed the barriers and developed solutions to conducting research during a future global pandemic. This work led to a coordinated Irish and global response to COVID-19 with a programme including a clinical trial (REMAP-CAP), observational data, biological samples, public/clinician perceptions research and public patient involvement (PPI). This was successful, with 11 COVID-19 treatment recommendations (publised in NEJM and JAMA), identification of genetic factors for COVID-19 critical illness (published in Nature), global data and public/patient insights (focus groups, surveys). It is now essential to understand what worked well, and what didn't, and use this period at the pandemic end to consolidate knowledge gained and disseminate these findings, so that Irish (and global) society can prepare for the next pandemic (or COVID variant emergence). To this end, Professor Nichol and his collaborators will create a phased portfolio of multifaceted knowledge translation activities for all audiences to consolidate and translate their learnings for future pandemic preparedness.
TAME-Translation: Translating the TAME cardiac arrest trial results to public, policy, clinicians, and researchers.
People who survive sudden out-of-hospital cardiac arrest (OHCA) usually require intensive care unit (ICU) treatment. The 'TAME' cardiac arrest trial, co-led by the Irish Critical Care-Clinical Trials Network (ICC-CTN), has just completed, including 1700 ICU patients from Ireland and 17 countries worldwide. TAME looked at a novel intervention of facilitating slightly higher carbon dioxide levels ('hypercapnia') to reduce brain injury (due to lack of oxygen) which occurs after an OHCA. Right now, the trial data trial is being analysed and Professor Nichol and team are preparing to present the results. It is essential that these important results, which will significantly influence patient treatment, are properly translated to all stakeholders including patients, public, policymakers, bedside clinicians/healthcare providers, clinician-researchers. The 'TAME-Translation' programme of knowledge translation will widely disseminate TAME project outputs and learning, enhancing 'translation' of results into clinical practice/healthcare policy, public/patient knowledge, and future research directions.
TAME-Translation will incorporate a varied knowledge translation (KT) strategy. A major highlight will be the results presentation at Critical Care Reviews 2023, an in-person and live-streamed interactive global meeting with a diverse audience including research funders, healthcare policymakers, patients/public and bedside-clinicians. Alongside this, they will host an OHCA stakeholder session at their ICC-CTN summer meeting to specifically inform/involve knowledge users including PPI, supporting the development of a European OHCA KT partnership to continue to inform optimal trial conduct and dissemination practice. Their KT strategy will include a multimedia platform to disseminate/translate results including public-facing documents, Department of Health policy briefs, a website, social media and press releases. Biological samples were collected in collaboration with another large OHCA trial (TTM2) and a data and sample access plan for dissemination will be executed to prime future knowledge translation.
See the HRB press release and full list of awardees.