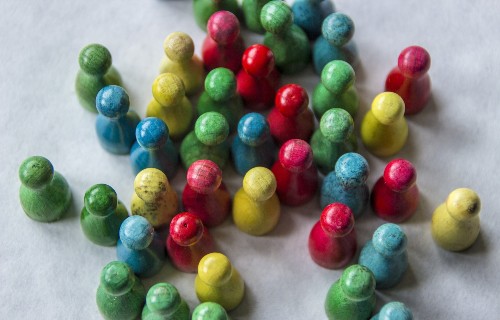 Food security, gendered artificial intelligence, and addressing educational inequality are among the topics of 9 UCD research projects to receive investment under the Collaborative Alliances for Societal Challenges (COALESCE) programme, as announced by the Irish Research Council today.
The awards are being made as part of the fourth cycle of COALESCE, which funds excellent research addressing national and European-global challenges across a number of strands.
The IRC funds a strand unique in the Irish research funding landscape in supporting interdisciplinary projects led by an AHSS (Arts, Humanities or Social Sciences) researcher working in collaboration with a STEM (science, technology, engineering and mathematics) researcher to address national or global societal challenges.
The programme also includes a number of strands run in partnership with Government departments and agencies, including INSTAR+ awards, funded by the National Monuments Service of the Department of Housing, Local Government and Heritage in partnership with the Heritage Council; and Better World Awards, funded by the Department of Foreign Affairs, and supporting collaboration between researchers in Ireland and one of Irish Aid's partner countries.
Commenting on today's announcement, Dr Louise Callinan, Director of the Irish Research Council, said: "The aims of the COALESCE programme strongly align with the commitments in Impact 2030, Ireland's Research and Innovation Strategy, to drive interdisciplinary research underpinned by research excellence to maximise the impact on the grand challenges we face. We are delighted that through our continued partnerships with different Government departments and agencies we are able to support collaborative and interdisciplinary research projects that respond to current priorities and policy needs."
The 9 UCD research projects awarded funding this year are:
Dr Joanna Brück - Archaeology of the Irish Revolution
The potential of archaeological approaches to illuminate events of Ireland's revolutionary period have not been fully realised. Taking East Limerick as a study area, this project will reveal the research value and community-building potential of revolutionary-period heritage. In collaboration with local communities, this project will identify revolutionary-era heritage and create interactive online maps and a database, which can inform future planning policy. Oral histories of the conflict will be collected, and artefacts from the National Museum of Ireland, Limerick Museum and private ownership will be examined, resulting in two pop-up exhibitions co-curated with the local community and refugee groups.
Dr Helen Lewis - Developing the resource of museum collections of Ireland's ancient animal bones: climate change, ecosystem reconstruction, and indicators of Pleistocene human presence from past excavation archives
Recently discovered indicators of human presence in Ireland from the Palaeolithic, push back the known date of people in Ireland by many thousands of years. Evidence of these ancient people hunting - and possibly herding, comes from detailed study of animal bones from antiquarian excavations of Irish cave sites. This project focuses on identifying species and cultural indicators from the animal bone archives to explore these issues further. By developing and interpreting the archives, our only window into Pleistocene Ireland, we will discover the first people to ever live on this island.
Dr Meriel McClatchie - FOODSEC: Food security in Bronze Age Ireland
Achieving food security is a key concern in modern societies but the challenge of ensuring that food is available and accessible stretches back thousands of years. Without food security, even the most complex societies in prehistoric Europe could have faltered. This project will pose the question: how did past societies in Ireland manage food security? It brings together a diverse group of people from archaeology, folklife, food science and farming to examine different strands of evidence and discover how past societies dealt with the challenges of achieving food security.
Dr Meriel McClatchie - CROPREVIVE: mapping underutilised crops in Ireland -- past, present and future
The first farmers began growing crops in Ireland almost 6000 years ago. There was significant diversity in the crops grown in Ireland's past, but our crop diversity has become more restricted over time. Over-reliance on a narrow variety of crops threatens our food security at a time of climate change and environmental degradation. This project will draw upon archaeological and historical evidence to find out what crops were grown in Ireland, and merge these findings with insights from plant sciences to seek modern crop varieties that can be sustainably produced into the future. It aims to encourage farmers to diversify their crop production, thereby supporting local communities and enterprises, as well as the wider national economy.
Dr Michael Lennon, University College Dublin - Green Space Engage
The 'new normal' of remote working presents an opportunity for enhanced urban health and well-being by localising work, services and recreation in walkable neighbourhoods. However, this poses a challenge for urban planning and design as the increased demand for public green spaces during the pandemic outlasts the crisis. Research suggests that there is divergence between the aspirations of green space users and how such spaces are planned, designed and managed. This project will harness and integrate a range of social science and computer science research approaches to produce an innovative knowledge co-creation methodology. It will open new lines of research at the interface of public health, planning, geography and landscape architecture and inform the co-production of planning, design and management guidance for public urban green spaces.
Dr Aoibhinn Ni Shúilleabháin - 'Is fearr DEIS chun chainnte – promoting productive Mathematical practices in underprivileged classrooms'
This project will address education inequality by tackling the issue of Mathematics education in underprivileged schools. After closely examining what works, the project will design and pilot a school-based intervention to improve students' classroom experiences and mathematical achievement. The project will introduce a collaborative form of professional development for Mathematics teachers to schools, thereby demonstrating how changing the classroom environment to one which encourages communication, develops problem-solving skills, and motivates students' thinking, can impact teachers' knowledge and students' achievements.
Dr Marius Claudy - Gendered Artificial Intelligence (AI): An Exploration of how Gendered Digital Assistants can Perpetuate Occupational Gender Biases
Most digital assistants, such as Apple's Siri, Amazon's Alexa or Microsoft's Cortana, are gendered as females. This gendering is deliberate, because consumers perceive female AI as 'warmer' and more 'humanlike' than male AI. This project will investigate if the 'gendering' of digital assistants perpetuates gender stereotypes and biases. It aims to advance our understanding of the role of gender in AI-human interactions and provide policy recommendations on how to design artificial forms of intelligence that do not undermine but help to advance gender equality in our societies.
Dr Christine Bonnin - SYNERGI: Mozambique (SociallY iNclusive Edible uRban Green Infrastructure)
Low income and vulnerable households, social groups, and communities living in rapidly growing cities across Africa face concurrent challenges of maintaining food security whilst coping with experienced impacts of climate change. The aim of SYNERGI is to investigate the potential for co-creating socially inclusive edible Urban Green Infrastructure as a strategy to support food security and climate resilience in two such rapidly growing cities in the context of Mozambique.
Dr Eilish McAuliffe - Gendered Leadership Advancing Systems and Structures: Through Collective Leadership, Networks and Mentorship (GLASS)
The proportion of women compared to men in leadership roles in the health sector remains low, despite evidence that women leaders have a positive influence on access to healthcare and patient outcomes. Research in this area has focused more on highlighting the barriers to women advancing to senior positions, rather than the solutions that might be put in place to help women advance. This project will work with 120 female health workers in Tanzania to understand the issues they face in applying for and obtaining leadership positions, and deliver a programme to address these barriers.
See the full list of successful projects here: https://research.ie/2022/09/15/e4-9-million-investment-announced-in-research-to-address-pressing-societal-issues