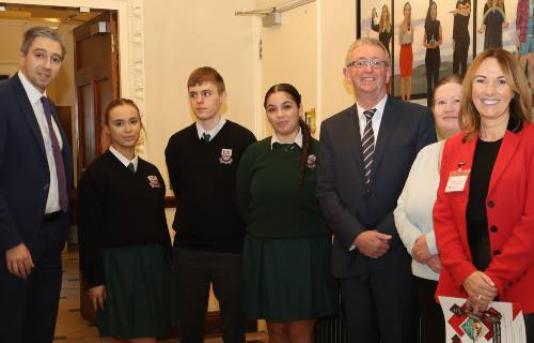 On Thursday 6th October, Professor Judith Harford (UCD) and Professor Aine Hyland (UCC) hosted a symposium in the Royal Irish Academy on the theme of 'Rethinking Educational Disadvantage.'
Opening the symposium, Minister Simon Harris commented "The importance of an event like this cannot be overstated. It is vital that we look at our education system and examine what barriers remain to full and equitable access for all."
Congratulating Professor Harford and Hyland on their leadership in the area of widening participation in education, he noted "I share your aim to have an education system that leaves nobody behind and values everyone for their own individual worth. If we value everybody for their own individual worth, our collective good as a country will be so much higher."
The symposium included inputs from Professor Paul Reville, Harvard University, Professor Diane Reay, the University of Cambridge and Professor Kathleen Lynch, UCD.
It also included a roundtable discussion featuring post-primary school students, school leaders and industry partners which looked at the impact of a programme run by Professor Harford, Power2Progress aimed at building academic resilience in DEIS schools. Over 600 senior-cycle students across 21 schools nationally are participating in the programme which includes additional small-group tuition; mentoring and career guidance, outreach days to UCD and a dedicated laptop for all students.
Commenting on the initiative, Minister Harris called it "an exceptional programme, which will make a real difference to the lives of the 600 plus participating students in DEIS schools nationally, a game changer in allowing these students to access further and higher education pathways." School leaders reflecting on the significance of the programme noted the increased engagement levels, attendance levels and ambition of participating students, as well as the ripple effect across the wider school community.
The symposium also featured the launch of a special issue of Irish Educational Studies on the theme of educational disadvantage, edited by Judith Harford, Brian Fleming and Áine Hyland.
Commenting on the significance of the symposium and publication, Professor Harford noted "While we have made some progress in democratising our education system, the stark reality is that participation in education in this country continues to be significantly shaped by social class. 'Educational disadvantage', a disempowering label which has an objectifying effect, continues to be viewed as a school-based issue, with a lack of recognition and response at a policy level of its fundamental, deep-seated relationship with wider economic inequalities across Irish society."
Judith Harford is Professor of Education and Deputy Head of the School of Education at UCD: https://people.ucd.ie/judith.harford
Photo caption: Minister Simon Harris, students from St Kilian's Community School Bray, Principal John Murphy, Guidance Counsellor Mary Casey and Professor Judith Harford.