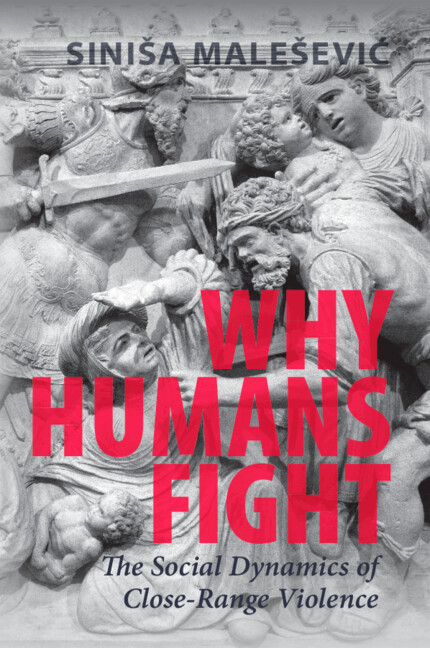 Siniša Malešević, Full Professor of Sociology at UCD School of Sociology, launches his compelling new book 'Why Humans Fight: The Social Dynamics of Close-Range Violence' (2022, Cambridge University Press) 4pm today, 29 November.
In this volume, Malešević offers a novel sociological answer to the age-old question: 'Why do humans fight?', arguing that fighting is not an individual attribute, but a social phenomenon shaped by one's relationships with other people.
Delving into the role biology, psychology, economics, ideology, and coercion play in one's experience of fighting, this volume emphasises the cultural and historical variability of combativeness. By drawing from numerous historical and contemporary examples from all over the world, Malešević demonstrates how social pugnacity is a relational and contextual phenomenon that possesses autonomous features.
A leading expert in the study of war and violence, nationalism, empire and ideology, Malešević says: 'This book explores the social dynamics of close-range fighting. Drawing on interviews with ex-combatants and analysis of letters from frontline soldiers, I aim to show that fighting is rarely based on one's individual motivations. Instead human beings regularly fight for other humans – to impress and please others, to hide fear and to avoid shame from others, to conform with values of others, to profit from others or to show emotional commitment to others.
Prof John Hall of McGill University, Canada said: 'Sinisa Malešević now commands the field dealing with nationalism, war and violence, gaining prize after prize as a result. This is his best book, full of new material, handled with enormous style, knowledge and subtlety. This book will last.'
Prof Michael Mann, University of California, Los Angeles said:'Malesevic begins with a penetrating critique of genetic, biological, and psychological explanations for why humans fight, whether they be mere brawlers or trained soldiers. He then proceeds to a more sociological approach, while stressing the variability of fighting experiences. His arguments are supported by immense learning and a flow of acute insights into human violence. This is a must read for anyone interested in violence and war.'
The online Launch will include a discussion panel with international experts: Prof Erica Chenoweth (Harvard University, USA), Prof John Hall (McGill University, Canada), Prof Donatella Della Porta (Florence University, Italy), Prof. Ugur Ungor (Amsterdam University, The Netherlands), with Moderator Dr Lea David (UCD) and responses from Malešević.
REGISTER HERE to attend the book launch. Find out more about the book.
Endorsements from prominent scholars:
'Sinisa Malešević has delivered a sweeping social history of face-to-face violence. In this masterful book, Malešević shows how violence is an inherently social, relational phenomenon, and he identifies the social structures that lay the foundation for organized killing. This book is ambitious, rigorous, and deeply convincing.' Erica Chenoweth, Harvard University
'Like Goya's war paintings, Why Human Fight surveys its horrible subject matter with an unblinking gaze. One of the many achievements of this extraordinary survey is to zoom in closely upon the often-overlooked micro-solidarities that enable social pugnacity to develop. Here Malesevic's own interrogation of diverse literatures is relentless; his curiosity boundless; and his insights often startlingly original. A dark, and exhilarating, survey: and, in the troubled 21st century, an urgently needed book.' Tim Wilson, University of St Andrews
'This exceptionally wide-ranging study lives up to its multidisciplinary ambitions by offering both in-depth research on particular instances of violence, and panoptic breadth in terms of its comprehension and digestion of an ever-widening research field. Malesevic manages to bring together and offset different strands of scholarship and formulate a clear new perspective that will offer food for thought for a good while.' Ugur Ungor, University of Amsterdam
About Siniša Malešević
Sinisa Malešević is a Full Professor at UCD School of Sociology. Recent books include: Comparative Sociological Theory (Sage 2021) + Classical Sociological Theory (Sage 2021), both with S. Loyal, Grounded Nationalisms: A Sociological Analysis (Cambridge UP, 2019, runner up/honourable mention, 2020 Stein Rokkan award), The Rise of Organised Brutality: A Historical Sociology of Violence (Cambridge UP, 2017, Outstanding Book Award from the American Sociological Association), Nation-States and Nationalisms: Organization, Ideology and Solidarity (Polity, 2013), and The Sociology of War and Violence (Cambridge UP, 2010).
He is a recipient of the American Sociological Association 2018 Outstanding Book Award for the Peace, War and Social Conflict Section for 'The Rise of Organised Brutality' (June 2018). He is a Member of the Royal Irish Academy, Academia Europaea, and an Associated Member of the Academy of Sciences and Arts of Bosnia and Herzegovina.He is also a Senior Fellow and Associated Researcher at CNAM, Paris. He has held research and teaching appointments at the Institute for International Relations (Zagreb), the Centre for the Study of Nationalism, CEU (Prague), the National University of Ireland, Galway; and visiting professorships and fellowships at NIAS/NIOD Amsterdam, Uppsala University, Universite Libre de Bruxelles (Eric Remacle Chair in Conflict and Peace Studies), the London School of Economics and the Institute for Human Sciences, Vienna.